STILL ON TCHIDI CHIKERE AND WIFE,SOPHIA +OGE OKOYE'S CONNECTION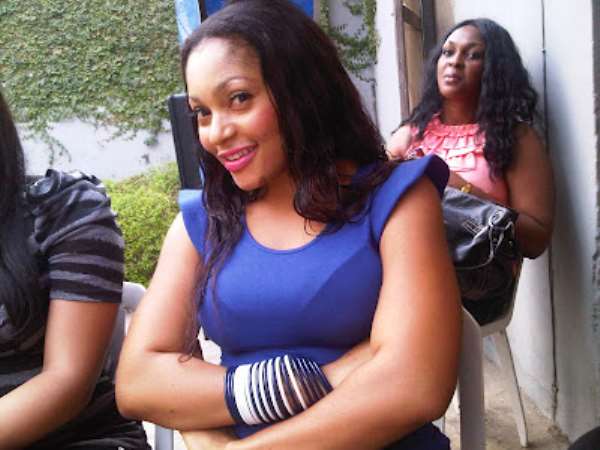 It is no longer news that top movie producer,director cum actor Tchidi Chikere has dumped his wife and children and walked out of his matrimonial home.
It is also no longer news that actress Nuella Njubigbo is that babe who came between the husband and wife.But what people do not really know till now is actually what moved the handsome dude to abandon his wife and children for Ms. Njubigbo.
Reliable insider sources disclosed to us that Mr. Chikere has always had the intention of getting married to a second woman after Sophia,and this decision became paramount in his life after the birth of his third child.
After all the numerous actresses he had love affairs with,the babe who came into his life at the point when he had made up his mind to marry a second wife,the source revealed was Tonto Dikeh.
The prolific movie maker was said to be so deeply engrossed in actress Tonto Dikeh and was ready to go extra mile with her that people started accusing the beautiful damsel of using charms on him.
According to the source,it was obvious the insiders who knew about Mr. Chikere's intention that Ms. Dikeh had no charming powers,but was only dancing to the tune of the movie director who wanted to take the relationship to the next level.
As informed,public opinion and pressure from friends and fans pushed the light skinned actress out of that relationship as she waved goodbye to Mr. Chikere who continued his quest for a second wife.
In 2010,the source continued,Mr. Chikere's path crossed with actress Nuella Njubigbo and after few months of being close friends,they started dating.
Top actresses who never liked the personality of beautiful actress Njubigbo were said to have broken the news to Sophia in a very negative light that painted her as an arrogant and rude babe.
Sophia rejected Ms. Njubigbo in her heart before meeting her in person and sent a spy after her husband to ascertain if really he was having a love affair with Ms. Njubigbo.
According to the source,when the secret affair came to the open,their marriage shook badly and got to the point of breaking up but Sophia decided to continue because of her children.
Sources claim that about December 2011,the multiple award winning movie maker had declared his intention of taking flared up dagger and informed her husband not to think of continuing his love affair with Nuella let alone getting married to her.
She was said to have pleaded with Mr. Chikere to rather marry any other Nollywood actress as a second wife and leave Nuella who has been spitting on her alone.She was alleged to have sworn that Mr. Chikere's house will never occupy her and Nuella as co-wives,as she is very rude and arrogant.
It was revealed to us that Mr. Chikere who never had the intention of dumping Sophia,but just wanted to marry a second wife informed her that she has to step down for Ms. Njubigbo if she will not allow her to stay as her co-wife.
The Imo State born movie maker allegedly gave his wife two months to decide to accept Nuella Njubigbo as a second wife or lose him as a husband,and stormed out of his home.
Exactly after two months of abandoning his wife and three children in Lagos,Mr. chikere circulated the press statement indicating that his marriage to Sophia has crashed and that he has moved with his life.
However,it was alleged that Mr. Chikere who has been following the activities of his wife since December when he left the house discovered that she has not managed her life alone,as she has had men flocking around her.
According to the source,he allegedly declared that he got reliable information concerning his wife and her closest friend top actress Oge Okoye,indicating that Mrs. Okoye has been traveling around the country with his wife and on the process introducing her to wealthy men who are now performing the act which he could not attend to from his hide out.
OGE OKOYE.jpg