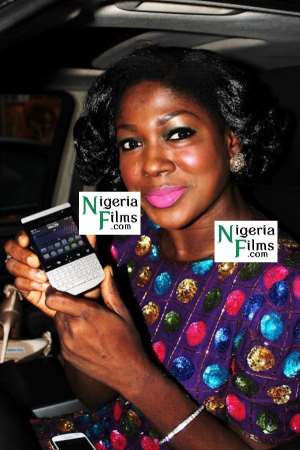 About two days ago, we brought you a report of up and coming Nollywood actress, Susan Peters posing with her recently acquired Blackberry Porsche believed to worth between 450,000 Naira and 500,000 Naira.
The story has been generating hot argument among some of her colleagues and fans as well.
According to a colleague of Susan Peters who spoke with Nollywoodgists.com under anonymous condition, "that (posing with her BB Porsche in a picture) is just a show off by Susan. I really don't know her motive behind it."
Another colleague of hers told us, "Susan uses every opportunity to seek attention, I really don't know her genuine reason for posing with a BB Porsche. I wish to keep a sealed lip on the matter. The truth is, Susan just needs attention.
Some Nollywood followers have also lashed out on the Idoma actress over the mobile device acquisition. Some believe there is nothing wrong in spending such amount in buying the mobile phone but frown at its flaunts.
Others have tongue-lashed Susan for the BB Porsche because they felt there are millions of children going hungry daily. They queried why such money is not channelled to helping the less privileged in the society, especially in her home town.
According to some other sections of fans, they believe it is her life, she has the liberty to choose the way she wants it.
In your own opinion, do you think the attack on Susan Peters is justified? Is she really an attention seeker as pointed out by one of her colleagues?