People made fun of my skinny frame, now, it has favoured meTemitope Areju, Model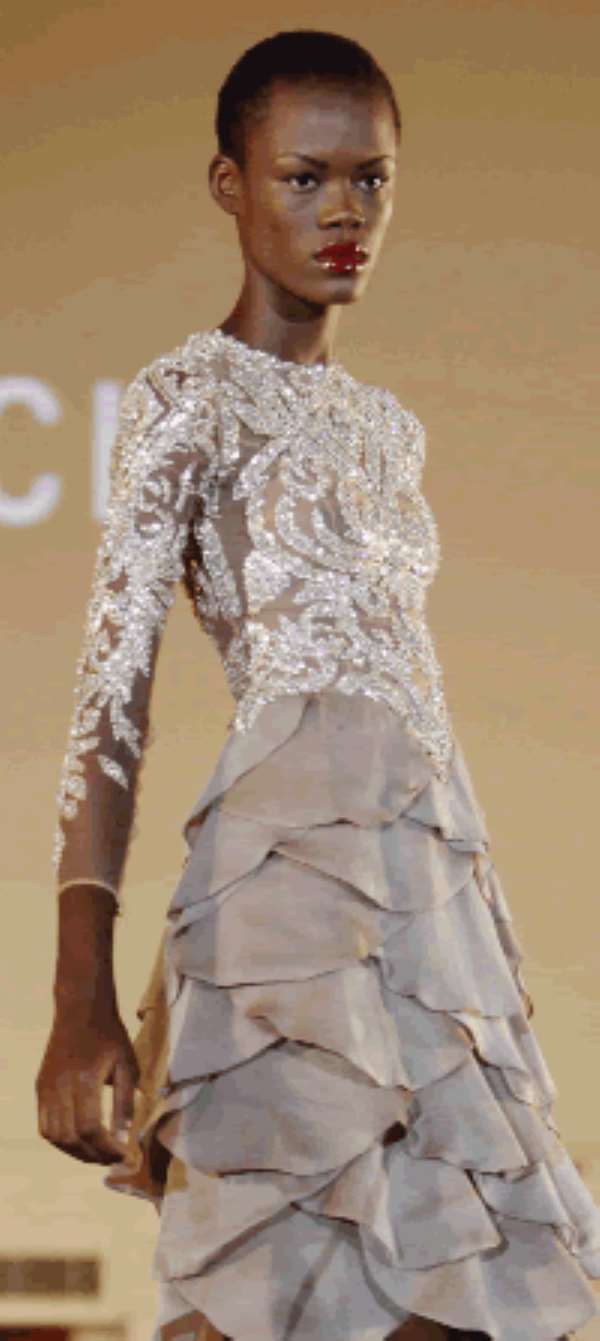 All she knew was that they said she looks like a model and she started dreaming to become one. Having seen many girls becoming models, she knows that she, too, could be, but she didn't know what it entails, neither had she a clue of how to actualize her dreams until her part crossed with that of Mrs. Joan Okorodudu, Chief Executive of ISIS Models and founder, Nigeria's Next Super Model competition.
She contested for the 2009 edition of the Nigeria's Next Super Model competition and became the first runner-up. Since then, her life has taken a different turn.
Today, she is one of the hot models strutting their stuff on the runway and by the time you are reading this, Temitope, would have travelled to New York, US to participate at this year's New York Fashion week.
This is 18-year-old Temitope Areju's story. TGIF had a chat recently with this young school-leaver on her journey into the world of modeling and her aspirations.
Excerpts
How do you feel about going to New York?
I am really excited. I feel on top of the world that I have the opportunity to go for the show.
Have you ever travelled out of the country before?
Certainly not. I have never. This is my first time and I am thrilled
How did you get into modeling?
I was discovered by my auntie, Helen Onos. Helen Onos is a former beauty queen in Nigeria. She is a former Miss Nigeria beauty queen. She was the one who brought me to Mrs Joan Okorodudu, the organizer of Nigeria Next Super Model competition. When I met her, she immediately liked me, told me that I look so much like a model. She told me that with my unique features, I have potentials in the modeling business and that would like me to groom me for the Nigeria Next Super Model competition.
What happened after your meeting with Mrs. Okorodudu?
I was taken in by her company and started teaching me. I have never catwalked before. I have never been on a runway before. So, while under their tutelage, I was chosen to contest in the Nigeria Next Super Model competition. I was being trained for the future.
How long were you trained?
When I was chosen as one of the contestants, I was in camp with the other girls for two weeks. They taught us how cat walking and choreography. We were really drilled on manners and general etiquettes.
And when the competition eventually took place, what happened?
At the end of the show which was the 2009 edition, I emerged first runner-up and I was very happy.
You said that you have never taken part in any modeling contest before you met Mrs. Okorodudu?
Yes,
So, when you came first runner-up, what was it like for you? How did you feel?
It was a surprise to me because I never knew that I would make it. I didn't ever think that I would come as the first runner-up
Why?
The simple reason is that first, many of the girls in the camp were more experienced and more exposed than I am. I was just a first timer with little or no experience. I couldn't imagine competing with girls who have been around for years in the business, so I thought I had no chance at all.
It was something I never imagined at that moment. So much, that when I was announced as the first runner-up, I felt like I was in a dream land or some kind of trance. But after a while, when the show ended and things got normalized, I began to realize that after all, it was real and that indeed, it had happened to me.
Your bony frame, of course, must have been a source of ridicule from some of your mates, while you were growing up. Can you recall any embarrassing moment?
Yes, it was on many occasions. My friends called me names because of my skinny nature. All through my secondary school days, I was a victim and subject of mockery and ridicule by mates. They would call me names and made fun of my physique.
Can you recall the names you were called then?
They used to call me hanger
Do you mean hanger for cloths?
Yes, and they would say that I am skinny because I don't eat but I know that I eat well
How did you feel about that?
I would cry and there were times I would attempt fighting them. Naturally, it made me feel bad. I know it was a bad remark so I always felt angry but what could I do? Since it was my nature, I tried to bear it and find a way to cope and laugh it off but I tell you honestly, it wasn't funny. I never saw it as a joke.
And being a child then, especially when I walk on the street, some people would stop me and ask " do you eat at all?" And if I say yes, they wouldn't believe me. In some instances, they wouldn't even want to listen to me. They would dismiss whatever I said and say that I am too skinny and should try to find a way to add some bits of flesh
But for those who are educated and a bit exposed, they would tell me that I really look like a model. Many people have actually told me times without number that I would do well as a model if I set my mind on it because I have unique bone structure.
Can you recall which of the models they say you look like?
Like Naomi Campbell
And do you believe them?
Yes, I do. I have seen her on the TV and I also like her
So, what did you do to actualize what they told you then?
I couldn't do anything then. I was just doing my school thing besides, how was I going to do it when I didn't know where to go to or who to meet not until auntie Helen Onos took me to auntie Joan's office?
But since you came into modeling, have you suffered any opposition from your family?
Not at all. My mother was the one who even told me that if I like modeling and I feel that that is what I like and I feel I can do it, that she will support me to any level it takes me. So, my mum and my siblings are all in support of my career. And for auntie Helen, she has always wanted the best for me and has done whatever she could to see that she helps me.
And for auntie Helen, she has always wanted the best for me. She has as much as she can to see that I got the opportunity. I remember how she used to tell me that I have unique figure best for the runway. And as one who have once been a beauty queen, I believe she knows what it entails
What has it been like since you won?
It has been a good and exciting experience for me. Although, there had been challenges here and there
Can you tell me about the challenges?
At times, I would go out for casting and they would not take me. Some would say that they donít want my size or my height. They want like size 6 or 12 and so on. And that can be discouraging. You know what it is going for a casting with other girls with high expectations, only to be turned down. You can imagine where a casting director will say that maybe that I am too tall for what they wanted.
So what did you do in such circumstance?
What can I do other than hope that one day, your day would come and you would be taken without much ado? I don't give up on such instances because I know that with God, all things are possible. I know definitely, that one day, a good opportunity will come when I will be the ultimate bride in a casting session.
These are some of the challenges but I have always known that the most important thing is, knowing what you have as a model, what you want and where you are going to.
Apart from possessing these qualities, don't you think that self confidence also matters in this game?
Self confidence is most paramount. Setting a goal for yourself and striving to achieve it. It may take a little more time from what I have seen of other girls but with God on my side, I would make it
Aside from modeling, what do you want to aspire to be?
I hope to become a TV presenter. I plan to read Mass Communication at the Lagos State Polytechnic, Ikorodu.
Has it ever crossed your mind that you would travel to New York, even, at this young age?
No, I never thought of it because since I am not from a rich family, who would take me there? Maybe, I would go but I never thought it would be this early in my life
So, what have you always dreamt of?
All I know about myself is that as people have always told me that I look more like a model, I started thinking that I would like to be a model, really, and having seen many girls becoming models, I know that I could but I didnít know what it entails. I didnít even, know how to reach there or how far it would take me. I was totally ignorant of the entire modeling thing. I know they say I am like a model ut how to get there, I didnít have a clue.
Since your success at the 2009 edition of the Nigeria Next Super Model competition, where have you been to?
I haven't been to many places but I have gathered more experience because I must say that I was so ignorant of everything before I met auntie Joan Okorodudu. When I came, I didn't know how to wear a shoe not to talk of knowing how to catwalk but now, I think I have got the experience and I am heading towards the professional level. And thatís some level of achievement for me within such a such period of time
Now, your life has, changed dramatically from where you were coming from, how would you encourage other girls of your age?
I would definitely encourage them. First, most girls think that modeling is just what anyone can do. It is not so and it is not just about the runway, too. Your carriage matters, too. Your interaction with people also is of great importance. Your ability to boost your self esteem and relate with people very well are some of the issues in this job.
You are pretty skinny with a bony structure, so much like the hanger. Do you have to starve to keep this figure like most young girls in modeling do?
No. I don't starve at all. In fact, in my house, they would always say that I eat so much that they wonít be surprised to find me eating up a tuber of yam, alone. Such is the way I eat. I donít have any problem with my shape at all.
I think it is genetic in my family. My mum is also what you may call a skinny woman. I might appear so skinny but I donít choose what I eat so as to stay in this shape. I eat just whatever I like and I donít bother whether or not I would add weight.
I understand that you would be leaving for the New York Fashion Week soon, how are you preparing for the show?
Well, I am working hard enough and taking things in my stride. I am building my portfolio. I am learning more about photo shoot, cat walking and other essentials which would enable me do well. I know its not going to be easy but I look forward to the New York show with excitement
Tell me a bit of what you have done in that regard?
I have done some photo shoots with some notable Nigerian photographers in the modeling agencies
Have you done any job outside Nigeria?
No, I have not. I have only done jobs within the country. I did Ovation Red Carpet, Nigeriaís Next Super Model and a few others
What would you say drives your passion to succeed in this profession?
I am driven by the sheer zeal to succeed and be able to make it just like other girls who have made it. I believe that if other girls can make a living out of the run ways and succeed, why shouldnít I? I think it is a question of setting my mind on it.
What would you say are the likely problems for girls of your age in this profession?
Basically, I think that lack of respect, humility and just refusing to be cool headed are some of the major problems. Again, their inability to listen to what more experienced colleagues tell them is another problem
Who are your role models?
I look up to people like Bunmi Ademokoya and Naomi Campbell