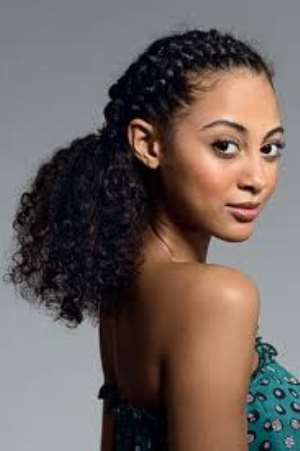 Photo credit - Stylish Eve
Pony tails
Is a pony tail formal enough for a job interview? It can be, if you choose a polished look. Opt for sleek styling, using an anti-frizz product or styling cream to tame fly aways. For an elegant touch, pull a piece of hair from the bottom of your pony tail and wrap it around to conceal your hair tie, securing it with a bobby pin.
Try Loose Curls
If you want a professional, polished look that doesn't seem too stuffy, try out a style with easy, breezy loose curls.
Pin One Side Back
During your interview, you certainly don't want to be worrying about pushing your hair out of your face. A style with one side pulled back can be a happy medium between wearing your hair down and styling it in a full updo. Even better, this is an easy look to style: just twist or brain one side back, and secure it behind your ear with a bobby pin.
Style It Long and Sleek
If you have long hair and want to wear it down during your interview, that's okay. Just make sure you keep it pulled away from your face, and avoid touching or playing with it during the meeting. A sleek, straight look kept out of the way and behind your shoulders is a good solution. After all, you want the focus to be on you, not your hair.
Side Bun It
A side bun is a fun but tasteful way to add some spunk to your hairstyle. Whether you wear the bun wavy or braided, or straight and sleek, try a low side bun, situated just at the nape of your neck.