2012 Hyundai Accent for Sale
Posted by Selase on Thu, 19 Jul 2018 -
Hyundai
Power steering, bluetooth connection, AC...
Ghana Ports And Harbors Authority Auction Sales
Posted by Cpt. Abraham Tetteh on Thu, 30 Nov 2017 -
Hyundai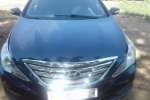 Auction Sales 2017 The Ghana Ports and Harbors Authority in collaboration with the Ghana Revenue Au...

The road to success is the most tedious but there are many options. You either stand without doing anything or keep moving.
By: Prosper Dzitse