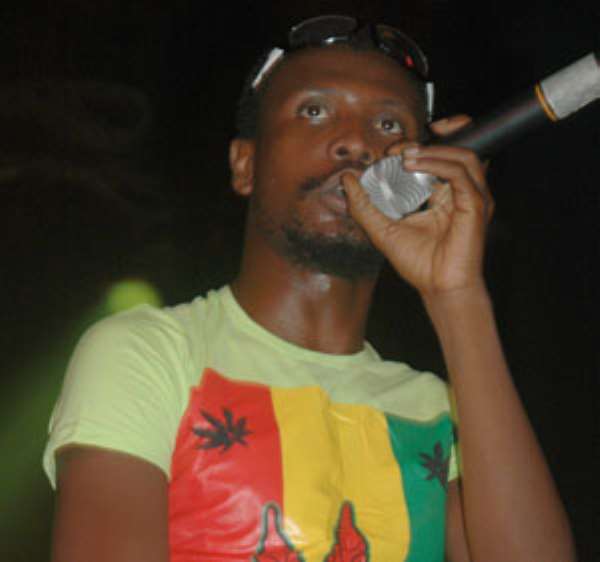 I was surprised the first time I heard that Okomfo Kwadee was called Jerry Anaba, because I never had the slightest doubt that he was an Akan, but when I got to know he was a Northerner I was like, oh wow! I got this shock because of Okomfo's mastery and command over the Twi language and Folklore. Okomfo Kwadee's style of story rapping, a craft he really perfected had both old and young people falling for him; undisputedly he is of of the many faces of Ghana's rap music in an era where rap was not really accepted in our society and his style to an extent helped cement rap music in our society.
I can confidently say, he is the first musician to have a fan base, that is the current fandom in Ghana's music circles was started with him, when he gave his fans "Atuated)m" or the rebels, which means we all who identified with his music as a fan was part of the "Atuated)m". It may be said that though during that era greats like Lord Kenya, Obrafour, Akyeame, Joe Fraziers, Akatakyie, D33ba, Reggie Rockstone were all there and they had fans but, none of them had a name for their fans, this is one of the things that set Kwadee apart.
With his story raps his songs addressed the issues of the time; messages that are still more than relevant in our dispensation today, only if we would go back and listen to his songs and the messages they send across generations. Though some of these songs are more than two decades old they are still relevant in many national discourse. Songs like Adwoa y3 me yere Yaa y3 me mpena, touched on the issue of extra marital affairs, "Ka wo nan to so" was on decent dressing, while "3fie nipa" was looking at the struggles people go through, with little or no support from the immediate family and depression because the persona in the music resorts to alcohol to forget his worries. "Y33 k) mmaa p3" one of my all time favorites from him looks at a lot of issues, this line from the song … "na wo maame ab)so) my na wo didi aa wo ne hwan k) ma s3 )ma wo sika nk) mmaa p3? ", if you eat from your mother's bag who are you to tell her to give you money for womanizing? (The literal translation). This looks at young boys who feel they are man enough to have a girlfriend but they do not have the financial freedom to do so, so they keep their love to themselves. He touched sexual immorality in the church in this same song with this line … "as)re dan mu mmaa p3 3f3 dodo, as3 )p3, as3 )mp3 )taa taa ho, )de adane mpaeb), )ntumi nk) ani mu, brother Emma, sister Patience )mo di sum ase d), … " womanizing in the church is sweet, it is as if she likes it, she doesn't like it, yet she can't let go, then they have turned it into prayers he can't come out clean; brother Emma, sister Patience are involved in illicit premarital sec". Kwadee and Metoaso had a strong message of wounded pride, anger, retaliation, and regrets. His albums are masterpieces that should be dusted off the shelf and regiven some airplay; what I mean is stories from the pas t gets to have a place in the future when we those living now make conscious efforts to give them a seat in the future by telling future generations what happened in the past.
It is us who will talk of our legend because no other person will do that for us; Jerry Okomfo Kwadee Ababa, may have retired before his time but, the moral messages he gave with his song,, his exploits and impact in the Ghanaian rap game still lives on and it is us who will to breath life into his legacy in Ghana's music industry, he still remains a perpetual part of my top ten all time Ghanaian rappers.
Kofi Adu Flair (you're free to share).