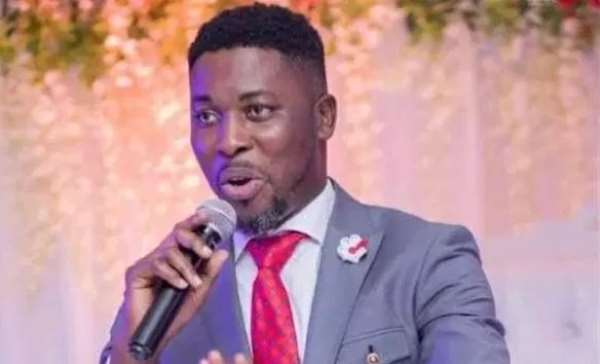 With the highest conviction that Kwame Asare Obeng has gone beyond embarrassing his parents to showing gross disrespect to better Ghanaians, I pen these few words of wisdom to appeal to him to behave.
It is unfortunate to observe that through illogical arguments, borne out of avarice which is embellished in political activism, A Plus has resorted to attacking the personality of President Nana Addo with impunity. He does this by taking advantage of occasions that can be dented with propaganda prowess to rain insults on the symbolic figure of the land of Ghana.
By the way, who is Kwame A Plus? A Plus, as called by his colleagues who have excelled in the music industry, is a failed Ghanaian musician, who smartly rode on the popularity of Nana Addo to make himself popular overnight. Having failed to excel in the music industry, Kwame Asare Obeng chose the path of attaching himself to Nana Addo, whom the Ghanaian public held so much in high esteem, then and now.
How did he do this? He started composing songs in support of Nana Addo's presidential bid in those days. Fortunately, President Nana Addo endorsed his songs, which made the Ghanaian public to transfer their love and respect for Nana Addo, whom they still respect, to A Plus, who had gone into oblivion.
However, A Plus now thinks his phantasmagoria popularity and songs, which were marketed by Nana Addo's popularity rather made Nana Addo the president of Ghana. This illogical thinking has deceived A Plus to feel that Nana Addo owns him so much as an individual. This has in turn jet propelled the avaricious desires of this smart, failed musician to unimaginable level. Consequently, he failed to appreciate the little reward the Nana Addo led administration gave him as a supporter of Nana Addo's presidential bid. This has therefore pushed him to wage barbarous attacks on the symbolic figure of the land of Ghana, which I think must be condemned.
Before I deal with A Plus' uncivilized attacks on the symbolic figure of the land, I want to first of all clear the air that I am not in anyway against his criticism of the president though they may sound illogical and hollow to me. I am rather against his barbaric attacks on the president, which by logical interpretation of the Ghanaian constitution, is an attack on all Ghanaians.
On baseless illogical analysis, A Plus recently abused President Nana Addo, calling him a hypocrite and dishonest person. Annoyingly, A Plus in his right senses thinks that Nana Addo must be held responsible for the emotional reaction of a section of Ghanaian masses at the lowest ebb of the social ladder who happily throng the president for protecting them against the deadly coronavirus.
As part of his responsibility of serving Ghanaians, the symbolic figure of the land, visited a few voter registration centers in Accra to ascertain happenings on the ground with regards to the registration exercise. However, on getting to one of the registration centers, a section of the Ghanaian masses who could not hide their joy on seeing the president who has not only given them free SHS among other social interventions, but has also protected them against the deadly virus, unconsciously breached the physical distancing protocol by thronging the president.
As shown in the video, Nana Addo doubled his steps to his waiting car after wavering them from a distance. Nevertheless, A Plus, in his right senses, thinks the President should be held responsible for the emotional reaction of these people which led to a breach of the physical distancing protocol the president has been admonishing all of us to adhere to. More annoyingly, he called the Head of State a hypocrite by virtue of this fact.
A critical assessment of A Plus' position on the president implies that we can blame God for our disobedience to His laws and instructions as contained in His sacred books. If we cannot do that, then A Plus' interpretation of phenomenon which often makes him wage barrage of insults on the symbolic figure of the land is nothing but a cacophony of a peeved avaricious self styled political activists, who has adopted stone age communist inferior tactics to court the attention of the president or people, whom he thinks can satisfy his rapacious desires.
Interestingly, A Plus thinks he should be feared because his Facebook posts reach millions of people within the twinkle of an eye. I think this kind of think cannot stand the test of logic. What A Plus does not know is that comedy and frivolous posts attract more views and comments on social media. Nevertheless, comedy and frivolity do not guide people's decisions on important issues. In fact, comedy and frivolous attacks on the president cannot give Ghanaians free SHS, Planting for Food and Jobs and other poverty alleviating programmes the president is busily implementing and well meaning Ghanaians are aware of this.
Summary/Conclusion
1. A Plus, you are not the reason why Nana Addo is the President of Ghana.
2. A Plus, you had lost in the system after failing in your music career.
3. A Plus, you are popular today because Nana Addo and his NPP endorsed your songs.
4. A Plus, you are rather the hypocrite because you criticise the president but you are intolerant to constructive criticism. When I contested your illogical position on the president, whom you presented as a leader who does not govern to promote the welfare of the youth with just one sound argument on the free SHS, your guys ejected me from your telegram platform. I sent you a message via your Facebook inbox and received an automatic reply. Till date, you are yet to get back to me. This makes you an individual who wants to ride on the gullibility of the youth to satisfy your voracious desires, which will never materialise.
I want to by this short piece, appeal to the conscience of A Plus to rethink and behave.
Bala Ali
Nationalist/Pan-Africanist.