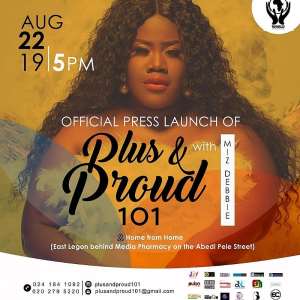 Known in real life as Miz Enyonam Ama Dabor, aka Miz Debbie has revealed that body enhancement products on plus size women don't work.
The public speaker made this known in an interview with blagogee.com , that she has tried these body enhancement products and never worked for her before.
According to her, many plus size women send her message via her social media handles [Facebook, Instagram] complaining about their voluptuous body.
When quizzed how she replied and also counsel most of these ladies when they send these messages? She affirmed that it's really difficult sometimes I try my best to motivate and also inspire them.
"I'm plus size and I've embraced… I'm confident with my body and I'm not shy about what I wear…," she strengthens plus size women.
She continued, "World Of Our Own Productions Present Next Generation with Miz Debbie." This will focus on high schools tertiary, churches to inspire the next generations. There will so many activities outlined after our unveiling of [Plus And Proud 101].
These voluptuous queens will be visiting Institutions (Secondary and Tertiary) to Organize Seminars, Donate and among other insightful activities.