Kid Rapper Samuel Owusu Deserves VGMA 2019 Nomination--Fans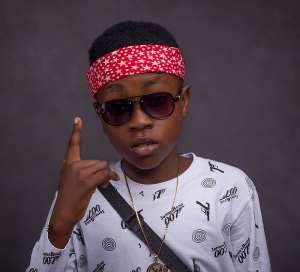 Some Members of Clef Army, the Official Fanbase for the winner of TV3 Talented Kids Season 9 and self-acclaimed Best Young Rapper in Africa, Samuel Owusu A.K.A Young King Clef have said the young rapper deserves to appear in the nomination list for VGMAs 2019 when its announced.
A leading member of Clef Army, Assiamah Frank, in a statement said they are going to submit their nomination forms and they know Samuel's management team will also submit theirs officially.
"I have no doubt that due to the discussions we have had with some of our members, I think every team member will like to submit their forms individually or at least all leading members will submit ours. We know for sure the management team will submit theirs this week, because I spoke to someone there and I think they are positive." Assiamah Frank Said.
Samuel Owusu has released three songs after winning the popular reality show, TV3 Talented Kidz in May, 2018, popular amongst them is "State of Affairs". "State of Affairs" talks about the state of Ghana's economy, a bit of politics and other sensitive social issues that was trending in Ghana at the time.
The song after its release has received positive feedback from critics, therefore the team and his fans believe this is the first time a 12 years old Kid has been bold and confident enough to touch on a very sensitive matter.
The song really makes sense and it's no news Bernard Avle has always been using it as his Pick of the day for numerous weeks on his show; the Citi Breakfast Show.
The song has also received massive airplays on TV and Radio, and also on social media platforms popularly among them is YouTube with 140,000 Views in its first month of release and currently 175,000 views and counting.
This is the first time a 12 years old rapper has released a very educative and a sensitive song that has been frequently played on Radio and TV and as well gained that kind of views on Youtube in its first month.
"We don't expect Charterhouse to ignore Samuel's Nomination because the facts are there for them to know, these statistics are public and if they want us to provide them to serve as proof, then we are more than ready to provide."- Assiamah said.
The fans argued that if TeePhlow's "State Of the Art" was nominated and also going on to win Record Of the Year 2018, the Samuel's State of the Art is more than qualified to be nominated especially in the Record of the Year category, since it is a record no one can dispute.
Fans are also expecting to see Samuel in the Hiphop Song of the year , Best Rapper of the Year, Record of the Year, and the New Artist of the Year categories.