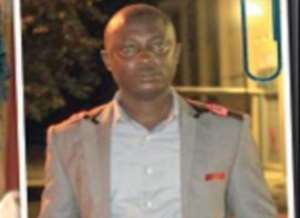 The General Overseer of the Life Power Miracle Church, Pastor Hammond Kwaku Love has passionately debunked claims that she once raped a teenage sister of his ex-wife, Christiana Love who is now known as Obaapa Christy.
When their marriage hit the rocks a few years ago, his ex-wife told journalists that Pastor Love was promiscuous to a point that he even raped her sister and their who was then a teenager.
That was one of the wild allegations Obaapa Christy slapped her ex-husband with to justify why she wanted to quit their 9 year old marriage blessed with three kids.
But speaking to Agyemang Prempeh (Agyemang Nie) on Power Entertainment on Power 97.9 FM, such story to tarnish his image.
Pastor Love , As a preacher, there was no way he could have a sexual intercourse with a teenager.
"How could I have slept with a 15 year old virgin in my house without anybody noticing it?" he quizzed.
Pastor love further noted those in his household at the time would have busted him for that.
"In this world if you rape a virgin, she will bleed; she would have to be sent to the hospital. Is her sex organ a gutter to be raped secretly without anybody knowing about it?…When the issue was sent to court, it was clear that it was a mere allegation that was levelled against me," he added.
Reacting to some of the allegations, he explained that he never anticipated that Obaapa Christy would leave the marriage, albeit there were their low moments.
"She was in Germany living with my sisters after she had delivered when a lady called me that my wife was snatching her husband…I didn't believe it because we were in good terms and had spoken the previous day," Pastor love recounted, adding that when he and the host, Agyemang , enquired they found at that she was known as a spinster.
"Agyemang, I asked you to call and find out. The guy (Obaapa's current husband) said he was not aware Christy was married," he added.
To him, there is no way they will come back together although they had three kids together.