The Most Talented Graphics Designer Shares His Untold Story Of Struggle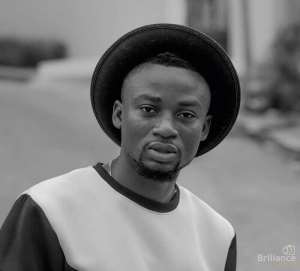 Mohammed Baba Musah, born on March 5, 1988, widely known in showbiz as Mr. iNeat or Mallangah. Malanga is a product of Vitting Senior High School in the Northern Region, Tamale.
He has set the pace in graphics designing up north and remains the crème de la crème in art works. Malanga started graphics designing way back in SHS, where he was a hot cake and became an object of envy by his colleague students and some of his teachers as well because some of the art works in the institution was done by him.
Mr. iNeat however, gained admission into the Tamale Technical University to read Computer Science but dropped out in his final year for reasons he refused to disclose.
Mr. iNeat has contributed immensely to the consolidation of arts and graphics designing in the North. "I have a strong belief that successful brands should communicate simply, yet powerfully to create an emotional connection with their customers. Over the years I have developed a strong understanding about the importance of brand to a company's business. I have successfully applied creative solutions across multiple touch points that have delivered tangible results for companies, both large and small", a story shared by Mr. Ineat
These are the daily and universal struggles of a graphic designer and this is his loving tribute to those in the design trenches. "May the creative concept never be forgotten and the good fight always be fought", he emphasis.
In its early years graphic designing was merely concerned with communicating the ideas and thoughts in a more aesthetic fashion. Where Artistes use not to do cover arts to premiere their songs and videos. Over the decades, individuals even use to draw or paint on walls to serve as notice for shows or events.
He Mr. Ineat has done and has continued to do free art works for the past 8 years for northern artistes, major artistes like: Fancy Gadam, Maccasio, SKY, Double Tee, Don Sigli, et al, do their graphics for both entertainment shows and music cover photos with him.
He has also done some art works for some top southern based artistes like Shata Wale and Stonebwouy, and also some corporate organizations like; Northern Television, Sagani TV, Dampco Company Ltd., Northern Entertainment Awards, Wunpini Agro Chemicals and even the Tamale Mayor's Excellency Awards.
"I did free designs for more than 8 years for Northern Artistes with no recognition or support from anyone, but for now the are more designers within the locality and even people from the south contact us for designs". He disclosed.
"I have, as part of uplifting and consolidating graphics design up north, trained a lot of youth in graphics designing. Some of them are working independently as graphics designer while some of them are still working with me at the iNeat Arts and Studio", says Malanga.
You can put us to test; have us do your design for you and I bet you can take it anywhere in Ghana and even across boarders" Mr. iNeat concluded.
Facebook page; iNeat Arts
Instagram; iNeat Arts
Twitter; iNeat Studio