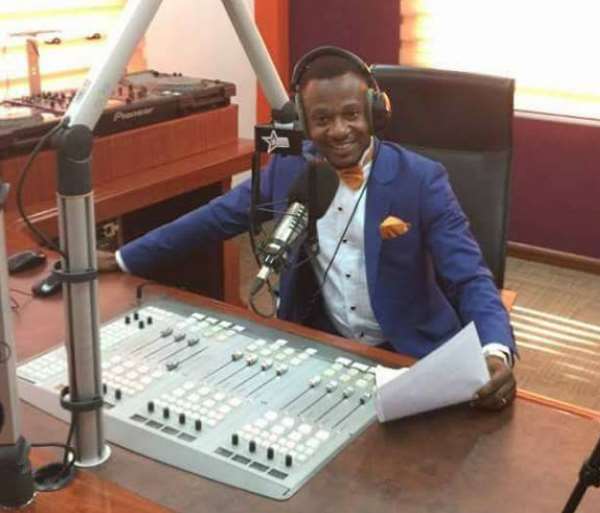 The General overser Of Heaven's Mandate Ministries Pastor Daniel Nii Lartey is a renowned journalist who works with EIB Network's Starr Fm in Accra.
One May ask how can he combine his work as a Journalist and the heavy demands of a pastor. Pastor Daniel Nii Lartey Who started the work of God five years ago shared his experience with Dailyviewgh.com's Dickson Boadi in an exclusive interview.
" It's not easy practising journalism and working as a pastor but as apostle Paul said in Philippians 4:13, 'we can do all things through christ who strengthens us' I am assured of God's grace to juggle the two to the glory of his Name", he said.
Pastor Daniel Nii Lartey is a product of the Ghana Institute Of Journalism(GIJ) from where he graduated with a Bachelors degree in communication. He also has a certificate in Television reporting from AJK Mass Communication and research centre, New Delhi,India.
Daniel did his internship with GBC between 2011 and 2012 and then proceeded to do his National Service with TV3 Network Limited in 2013.
By the grace of God, he got employed subsequently. He worked there for three years after which he resigned to join EIB NETWORK's Starr Fm in 2016.
"I am highly encouraged by Mark 16:15 which admonishes us to Go into the world and preach the Gospel to all creatures. Also, the scripture in Acts 2:17. In the last days God is pouring out His spirit on all flesh and Iam one of them said Pastor Daniel Nii Lartey"
Daniel's parents are Mr And Mrs Lartey all from Osu, Accra. He is the third of four children.
He spends part of his time in the Ashanti regional capital, Kumasi, where his beautiful wife, Franscica Amo Acheampong hails from.
Pastor Daniel Nii Lartey's role model is the Saviour Jesus Christ. He also under studies Prophet Brian Carn in the United States Of America, Prophet Nana Yaw Akrofi and Michaelina Anaman.
When asked whether he will quit Journalism for the pulpit he replied, 'Iam trusting the tutelage of the spirit of God to direct my path when the voice of God is clear on that, I will take a decision as it stands, I have not heard anything.