"Anniversary" Premieres On December 25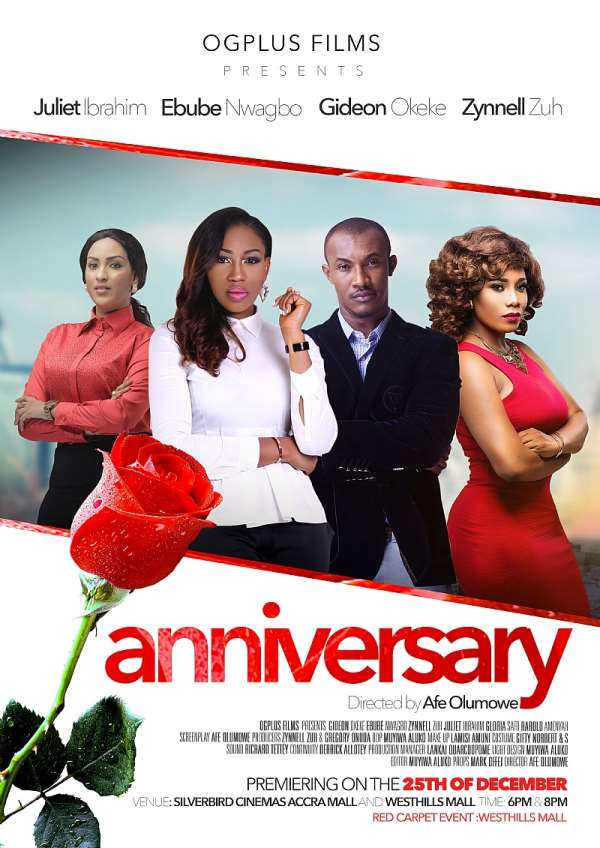 After releasing the official trailer for their latest movie "Anniversary", producers of the movie Zynnell Zuh and Gregory Onudo have announced that, the movie would be premiered on Christmas Day, December 25, 2015.
The movie which has been nominated in the Best Script category at the 2016 Africa Magic Viewers' Choice Awards premieres at the Silverbird Cinemas in Accra Mall and West Hills Mall in Weija.
"Anniversary" which is involved on the life of three very unique personalities in a story of love, marriage and infidelity stars actors from Nigeria and Ghana including Nollywood actors Gideon Okeke, Ebube Nwagbo, Zynnell Zuh, Harold Amenya and Gloria Safo with special appearance from Juliet Ibrahim.
Anniversary was written and directed by Afe Olumowe for OGPLUS Films.
Synopsis for "Anniversary"
Anniversary centres on the life of three very unique personalities. Harry Banks have been married to his wife for 5 years and are happy until he starts to get bored.
His wife Sarah Banks is a wannabe writer who for the most part can be described as conventional and conservative. She turns down every sexual innovation by her husband towards improving their sexual relationship.
Samira Boateng is the CEO of an advertisement company who can be well described as hard-working, bored and sexually adventurous. So event takes a turn when Dr. Harry Banks treats Samira Boateng in his hospital.
This meeting turns out to be the driving plot of the story, as it develops into a sexually compatible affair between the duo. The relationship is great and true to Samira except for the fact that she is oblivious of Harry's marital status.
Everything is fine between the trio of Harry, Sarah and Samira until Samira enters the plane and sits with Sarah who happens to be her sit partner for the Accra bound flight. Sarah discovers for the first time in her life that she is not the only woman in her husband's life.
Who is this other woman? Why does her husband love her? How long has this been going on? What does the future hold for her marriage after this shocking revelation? This is the story of love, marriage and infidelity.
Watch the trailer below;