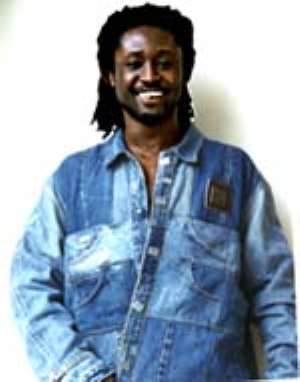 Albums: Makaa Maka ('I said it because I said it!', 1997), Plan Ben? (single, 1998), Me Na Me Kae ('I was the one who said it', 1999), Me Ka (I will say, 2000)
Label: Kassa Records
Base: Accra, Ghana
Contact: [email protected]
The pioneer of rap music in local dialect in Ghana. His specialty is Asante Twi. He is well-versed in English. He has international acclaim and has performed in many places such as West Africa, UK, France, USA & Switzerland. His videos are aired as far as South Africa on M-Net's 24 hr music television station, Channel 'O' which has an audience of millions across a large part of Africa (44 countries!).
He has his own extensive website with Realaudio and MP3 files which includes a guestbook with hits from all over the world. His new album was released in July 2000. It is called "ME KA (I will Say!). This is a 7 song EP, with a second part due at the end of January 2001. The official Rockstone site will be updated. (See bottom). The majority of his tracks were produced by veteran Hip Hop trooper; Rab 'The International' Bakari The album 'Makaa, Maka!' featured members from the PLZ crew (see down this page).
The singles from this album did well on the local market and received international attention. Its follow-up, the single 'Plan Ben?' in Twi language was released as a cassette/cd single and features Root-I who's into ragga. Hot singles off his 1st album Makaa Maka (97): 'Tsoo Boi' ('Choo-bu-eh', similar to hey, ho!), Agoo! (ah-goh) (a Twi call of announcement); Nightlife In Accra; 'Anigye Be Fie' (ah-nee-jeh-beh fee-eh), 'Sweetie, Sweetie' and 'My Turn To Burn' which featured Fredi Funkstone Hot singles from 'Me Na Me Kae' (1999): 'Keep Your Eyes on The Road'; Eye Mo De Anaa (eh-yeh-muh-deh ah-naah); 'Plan Ben?'(What Plan?) 'Different you, Different Me', 'Ya Bounce Wo Visa';(They have bounced your visa). Songs like 'Eye Mo De Anaa' (Is it Sweet to Y'all) cleverly sample Fela's 1977 hit - 'Shakara' and 'Keep Your Eyes On The Road' uses a very famous 1970's highlife tune by Alhaji K. Frimpong.
English cuts like 'Walk Like an African' and 'Where I'm From' showed the true versatility of Rockstone's skills. The lyrics are deep. He even touched on the issue of abortion, where he supported the birth; Triple S wanted the abortion and her homegirl (C.A.B.) coaxed her to 'get rid' of the pregnancy. Of course this is not true; but it was cleverly acted out on record by these three talented emcees. PLZ (Parables, Linguistics and Zlang) was the UK based group that Reggie Rockstone was in before moving on to a solo carreer; other members were Dj Pogo and Fred Funkstone. Number one hits from PLZ included "If it Aint PLZ" and an EP entitled "Build a Wall Around Your Dreams" released on an independent label called "Go For the Juggler." PLZ contributed to the PANAFEST festival in Ghana in 1994.
UK magazine HHC reported: "As they performed their turntable set-up broke down. They decided to continue to perform with live percussion provided by highlife-group Marriots International. Then they started to freestyle in Twi, something that was totally new to them. The way in which the crowd reacted to the use of their native language, made them think of incorporating more 'African' elements in their music".