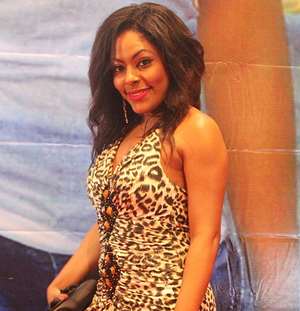 Single parent and Ghanaian actress Soraya Mensah Kukubor  has advertised her need for a husband.
A small terms and policy attached to the vacancy is that you should be ready to support her acting career currently under revival.
Soraya  parted ways with Peter Ahiakpor, otherwise called Don P, a wealthy Ghanaian businessman.
The two  dated about two years before they had their first daughter three years ago. She told News-One, she rushed into that relationship only to realise her ex-hubby had little support for her relationship.
Nonetheless she was grateful to Don P for pushing her to further her education.
But, life must go on and for Soraya, a new husband and a return to acting is her idea of going forward.
"I am searching for a prospective husband....a God-fearing man, I stress. And a man who will stand by me and support the path I have chosen", she said.
The actress went off the silver screens to have her baby and had been dormant in the movie industry, until she appeared in Nadia Buari produced film, 'The Diary of Imogen Brown' at the latter part of last year.