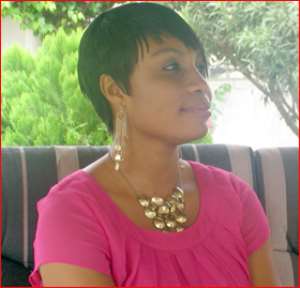 Selassie Ibrahim
FOR VETERAN actress Selassie Ibrahim, acting was just a hobby. But doing it over and over again transcended into a more viable endeavor than she had estimated.
Presently, she is not only recognized as an actress but also a producer. Her first movie, 'The CEO', produced by her Smarttys Management & Production, is set for one of the biggest movie releases with a VIP premiere on Saturday at the Golden Tulip Hotel in Accra.
Speaking in an exclusive interview with BEATWAVES, Selassie traced her acting career to her childhood days when she used to perform in her school's drama group and read speeches during speech and prize giving days.  
"I have grown to know that my mother's dad was actually an actor. Just that during their days, there was nothing like big screen acting for them to exhibit their talent. I think I might have inherited the talent from him," she said.
Professionally, she started with the Nyankonton Players in 1992 with other group members such as Fred Amugi, Kwame Sefa Kayi, Diana Gbartey and a number of other veteran actors. They didn't only perform on stage but also appeared in TV Theatre productions on GTV.
Through that, producer and director William Akuffo spotted her and called her for her first ever feature film role in 'My Sweetie.' Fortunately, that gave her a break as she became popular after playing that role, starring alongside big names such as Grace Omaboe and Mc-Jordan Amateyefio.
Currently, she has appeared in over 80 productions, most of whose titles she couldn't recall. Among them were 'My Sweetie', 'Yaa Asantewaa', 'Frozen Emotion', 'Malaika', and 'My Sister's Honour'.
She also acted in TV series like 'I Stand Accuse', 'Broadway' and a few more.  Later, she went off the screens for some time. This, she said, was a deliberate move.
"I decided to go off the screens and do other things. In showbiz you don't always have to be in public eyes. When we started we couldn't find our bearings. Whether the industry is going to grow to this stage, we don't know. So I thought once awhile let me get out of the industry and think about other ventures."
While she was off the screens, she went into managing her Smarttys Boutique located off the Spintex Road and Smarttys Management and Production, which also ventures into media related jobs and event management.  
According to her, she did not anticipate returning to the screens so soon. She was however compelled to do that because of a 70-year-old woman she recently met in Accra, who pleaded with her to bounce back.
"Sometimes, you need to go and comeback so that people will miss you small, so that you feel loved. I don't need to be on the screens forever. You need to go off and comeback. That makes it exciting," she jovially said.
Selassie, married for the past 12 years with children, is the first of six children; five women and one guy. She comes from the Volta Region, precisely, Tsito Awudome.
She first schooled at the Tsito EP primary school and then Tsito Old Junior High School, before enrolling at the Awudome Secondary School. She later read some business courses before going to Wisconsin University.
Selassie said it feels good to be back on the movie scene. "The movie industry has over the years gone through some form of improvement and growth when it comes to directing and acting.
Now Ghanaian movies are accepted worldwide. Even time changes, as we grow as human beings. When you look at your picture two years back, it is not the same as you looking today. Automatically, things change," she stated.
 By Francis Addo