How to Compost Pig Manure into Organic Fertiliser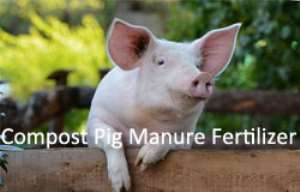 In general, a 200lb pig would produce about 13lb manure per day. Pig manure contains plentiful essential nutrition ingredients like nitrogen, phosphorus and potassium for plant growth, which can promote healthy growth and increase the yield of grain crop. Even though pig manure is a commendable raw material of organic fertilizer, lots of pig manures carry E.coli, salmonella, parasitic worms and a host of other organisms, so it is necessary to compost pig manure before using them as fertilizer into soil directly. If you own a pig, you've got to deal with managing the manure. If you own a pig farm, you need to consider how to process the manure with more efficient and economic methods. Luckily, pig farmers can choose the related composting machine and organic fertilizer equipment to make manure biological organic fertilizer. In the case of composting, it's safe to use this manure as a soil amendment.
Nowadays, the advanced manure waste disposal machines can help to reduce the volume of pig slurry and minimize pollutant emissions, giving pig farmers the potential to turn manure into money. Here, we emphatically introduce a series of equipment that play crucial parts in pig manure organic fertilizer production, including solid-liquid separator and compost turner machine used in the composting and fermentation process,organic fertilizer granulator for manure granulation process, sieve screen for screening process, rotary dryer and cooling machine, and automated packager, etc.
Organic fertilizer based on pig manure can bring lots of benefits to the soil, including improving the fertility, water-holding capacity, bulk density and biological properties. In addition, it also reduces odors and fly eggs die because of high temperature occurring in the process of composting and fermentation, reduing environment pollution immensely. The development of organic farming and organic food are based on developing manure organic fertilizer with high fertilizer efficiency, so the growth of pig manure fertilizer production industry has significant social benefit in cultivating new economic growth points, improving the quality of subsidiary agricultural products, increasing farmers income and realizing sustainable agriculture development.