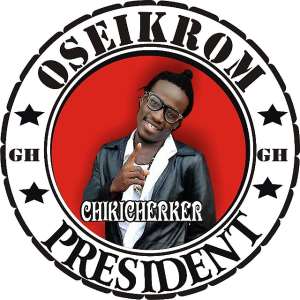 Yes Sir, is a response in an everyday language is associated with an experience that involves a Master and Subordinate relationship. When a musician uses such a catch phrase that solicits response with YES SIR, that individual has to have abundant artistic skills. Yes, of course, for those of you who have listened to some of his tracks and remixes, this young man is a true star in the making. Today's HIPLIFE CHRONICLES feature a conversation with a young musician who is making waves in the Ashanti region in particular and Ghana in general. He is known as the new Oseikrom President. To find out why he has that name.........here are excerpts from our interview
He was born and christined Adu Emmanuel and his show biz name is Abusuapanin Chikicherrkerr
According to him he chose the name, Abusuapanin because, "rap ABU na ma SUA ab3 y3 PANIN"
CHIKICHERRKERR is a word i created by my self which means AUTHENTIC and UNIQUE
Abusuapanyin attended and graduated Junior high school at the famous and prestigious Elshaddai Model School. He then went to Kumasi Technical Institute (K.T.I) where he became the Entertainment Prefect in 2004/5 academic year. He furthered his education at K.POLY to do a technician course.
His numerous artistic achievements includes the following:
Recorded his first jingle for AUTHENTIC Sports of KAPITAL radio Kumasi in 2000.
He also recorded Sports jingle for an Accra based Ghana's number 1 Sports Programme Radio station, HAPPY SPORTS of HAPPY fm.
He has also composed jingle for djs like DJ Flow Anigye3 Fm KUMASI, dJ Alonso of Boss fm KUMASI etc
He has also done so many mixtapes and refixes. Refix of Lucky Dube=back to my root,Dj Khalid=all ido is win,Christina Love and Kwaku Gyasi,Dr Cryme-Mene Woa
Demarco=I love my life He has done mixtape of Skatawaka, Mixtape of One I love by Sunshine De boy,J Martins iva iva etc
In discussing Classic Highlife music, he mentioned his collaboration with some top musicians in Ghana including:
been featured on songs of people like Agya Osei Vasco of Ashanti Brothers band fame, also featured on George Jarah etc
Currently he is out with a single and is focus is on its promotion. In his own words : "I am now tryin to promote my new single called ME Y3M BA"
MUSIC LINK: http://soundcloud.com/abusuapanin-chikicherker/abusua-chikicherrkerr-mani