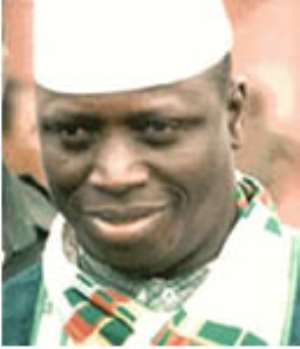 Yahya Jammeh
Gambia's heightening quest to attract foreign investment opportunities received a severe blow at the beginning of last March, when an investment treaty claim against the country took shape with the constitution of a tribunal. The case involving it and the Australian owned Carnegie Minerals (Gambia) Limited has always been a grave stain on the country's image, since the dispute came to light in 2008.
Registered since October 23, 2009, the mining concession case at the International Center for Settlement of Investment Dispute (ICSID) finally got a constituted tribunal on March 3, 2010. It held it first session in Washington, D.C. later on April 27.
The worry for many of those Gambians who are aware of the situation has more to do with the manner in which the government handled the issue than the actual existence of the problem. Going through case details of ICSID you will find out that what Gambia stands to answer for is negligible compared to a number of other countries. However, what makes its case different and more worrisome, at least for ordinary Gambians who care, is that impression of lawlessness that has been propagated. The sometimes rather ungainly attitude of the government has regrettably aided the case of those propagating this sense of disorder.
For a few of the overwhelming opponents of the regime in Banjul, this, understandably, might serve as a perfect reference point as it once again proves them right by pointing to one of the many abhorrent side of the Yahya Jammeh led government.
But the fact remains that it is Gambia as a nation that pays for it. Already the sense of hopelessness the premature closure of the mine caused among the people of Sanyang Village and surrounding settlements is clear to all who cared to find out. There have been reports of a take over of the mine by Yahya Jammeh's mounting business empire. How true that is, remains to be ascertained (unfortunately, issues of that nature in Gambia can only remain subjects of speculation as no one feels obliged to give account).
In every country there are established institutions tasked with dealing with specific issues. But in the Gambia, everything appears to center on one man, Yahya Jammeh, who doesn't appear to recognize the line that set his presidential duties apart from others'. This is not about the president's moot involvement in diverse business interests across the country; far from it. It is about his unconstitutional tendencies in dealing with disputes, be they local or those with international dimensions, albeit his utter to tackle such issues.
''Notorious for chasing away investors, Gambia's latest victim is Australian mineral sands miner, Carnegie Minerals, whose operations were suspended this week.''
The above lead appeared on Mineweb, a web-based international mining publication, on its January 2008 edition.
The implications of misleading headlines like these are unfairly far-reaching for the country's largely impoverished population. Misleading because it did not only wrongly suggest a deep-seated tradition for dismissing investors, but also the author of the article clearly overlooked all journalistic ethics and made an unfair case for Carnegie.
But, come to think about it, what would one expect of journalists when it comes to dealing with a country like Gambia, where officials have a consummate affinity for lack of transparency on even the most fundamental of constitutional matters?
As much as you would want to protest against this kind of reporting, the scores of unexplained cases against the government are so conspicuous that it makes it all too impossible.
In a democracy there is not supposed to be any room for military style decrees; yet, unfortunately this is how Gambia is ruled today, over ten (10) years after actual military rule. Government institutions hardly take decisions that are prejudice-free, that is because President Yahya Jammeh in fact takes all decisions, barely making any prior consultation. Even when it comes to issues for technocratic decisions, Jammeh's urge for usurping credit for good results is insurmountable – his militaristic tendencies appear to always override his judgment.
Imagine a president going on national television, brandishing a disk that supposedly contains some obscure information about some newly discovered mineral resources, swearing that if they [potential investors] don't want Gambians to get the biggest share, they can go to hell… Imagine under which pressure the ill-fated Gambian negotiator for such a deal will be under … how they are likely to handle it…
Basically, we have a president who wants to be associated with every good thing that happens in the country. While that is not a problem, his manners have served more as obstacle to progress in many ways than he seems to have realized.
In the case of the Australian mining company, for instance, ordinary Gambians only came to know about the situation when things had already fallen apart. That was when the president past an ultimatum for the mining company to ''explain to Gambians'' what it was up to. The next thing we heard was the arrest of the General Manager of the company. In situations of this nature, public opinion is usurped with the help of the tightly controlled Gambia Radio and Television Services (GRTS') overblown 'patriotic' terminologies that some times tantamount to xenophobia and hate directed to a particular section of people.
Occurrences like these do not only confirm the long held view of pointlessness of the country's judiciary, but they also serve as demonstration of the substandard manner the Gambia is being run.
While we heard complaints about the alleged wrongful conduct of the mining company, we have not heard any question for the Gambian officials who negotiated the deal (that is if it was not Yahya Jammeh himself), who should have been answering to charges of not only negligence but also incompetence. These people certainly did not do their home work well.
Crispin Grey-Jonson, at the time Secretary of State (Minister) for Foreign Affairs, told a press conference purposely organized to regain investor confidence that Carnegie Minerals had taken advantage of the fact that the country was one without the laboratories to test what they were exporting to deliberately deceive the government. (Lest I forget, I wonder if Gambians are being informed of the development at the ICSID.)
About two years since that press conference, a relevant question posed by Phill Simkinson, then British High Commissioner to the Gambia, has not been answered. At least it has not been announced to Gambians.
The clearly wary British diplomat asked Foreign Affairs Minister Grey-Johnson if the Gambian government's laboratory results that was said to have been gotten after samples were sent out would be released.
How could any serious-minded government have engaged in such a deal without finding out about the content of the area concerned?
This lackadaisically indifferent attitude of the government is reminiscent of the 2001 showdown with the groundnut firm Alementa, whose offices were attacked by armed security men on the order of Yahya Jammeh. Everything about Yahya Jammeh represents the pitfall of entrusting power to an amateur extremist.
While official details suggested that the two parties – the Gambia government and Alementa - agreed on an out of court resettlement, the actual outcome was catastrophic for the Gambian people. One account said the foreign groundnut firm got a US$12 million settlement fee.
For once the government's failure to prove its accusations resulted in the suffering of hundreds of thousands of poor Gambian farmers, who could not be paid for about two subsequent seasons for their groundnut.
While the president's unchecked influence over the country's judiciary guarantees that his government wins cases against opponents at home, this, unfortunately, cannot be the case for lawsuits under international jurisdiction. This is what makes the Carnegie lawsuit another potentially bad experience for Gambia.