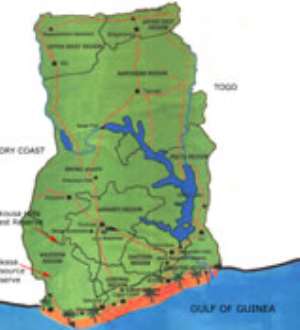 A 22-page 2008 Human Rights Report on Ghana by the United States government has been released, with the Ghanaian government scoring good marks in many aspects. There are however, certain instances that the U.S. government indicted the then New Patriotic Party (NPP) government of President John Kufuor.
On the 2008 Presidential and Parliamentary elections, the Report stated "the elections were generally peaceful and transparent. Activities at polling stations were observed by party agents and thousands of domestic and international observers. There were reports in some areas of voter intimidation and election irregularities, particularly in the regions of the country where the two main parties have their base of support. However, the consensus of observers and the independent Electoral Commission was that these irregularities were insufficient to have altered the outcome of the election."
The Report however added: "The political system includes recognised opposition parties, which expressed their views freely. Registered political parties operated freely; however opposition parties and persons in private business continue to allege that government contracts were often awarded on the basis of ruling party membership"
On corruption, it said the then opposition National Democratic Congress (NDC) "accused the government of using anti-corruption investigations to intimidate and harass its members. Opposition parties charged that corruption continued abated and that the government failed to use the institutions and mechanisms at its disposal to address the problem. There were reports that government officials pressured businesses to steer contracts toward favoured companies and individuals."
The U.S. government also indicted the then NPP government on how it dealt with cases involving narcotic trafficking.
"... by year's end, (2008) the government had not followed the trial judges recommendation to prosecute a leading police officials for his alleged complicity. There were no developments in a separate 2006 case in which the government declined to censure the IGP (Inspector-General of Police) following allegations that a different senior police official requested a 234,000 cedi (approximately $200,000) bribe to drop a case against a foreign cocaine trafficker. The Police Council and the government, in separate statements in 2007, disagreed with the Committee's recommendation that the IGP be censured."
Regarding ethnicity, the U.S. government's view, "although the government d-emphasised the relevance of ethnic differences, its opponents complained that appointed senior government positions were dominated by Ashantis and other Akans at the expense of Ewes and northerners. President Kufuor and some of his Ministers and close advisors were Ashanti, but the Vice President and many Ministers were of the ethnic origins."