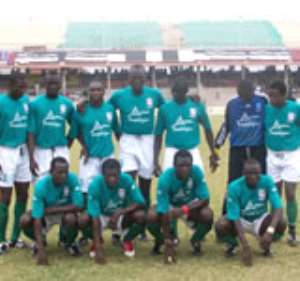 The management of premier league club Real Tamale United yesterday signed a 900 million cedi sponsorship package with fertilizer manufacturers, Wienco Ghana Limited.
The package which represents an increment of 75 million cedis from last year's 45 million is expected to take care of the clubs expenses for the 2006 league season.
Wienco has also agreed to finance the construction of a 3000 seating capacity training field for the club.
Wienco has been associated with RTU as sponsors for ten years and as Managing director Harry John Wientjes explains, his company has kept faith with the club purely for business influence.
Head of the club's management committee Ibrahim Adams told Joy Sports the sponsorship package will spur the club to qualify for Africa club
Head of the management committee of RTU, Ibrahim Adams believes the club can now plan better with the improved financial situation.
"It would certainly motivate not only the playing body but the technical team and the rank and file of the club.
"We hope this would encourage other bodies who have been contributing to the club to do that more concretely.
"A general rejuvenation of the club is now possible.
"I think we are in a position of comfort now and we can now plan better."