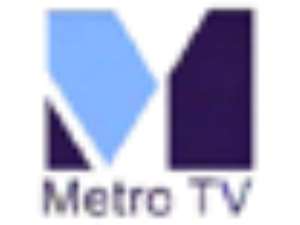 The Ghana Football Association (GFA) has accredited Metropolitan Entertainment Television (METRO TV) as the exclusive "official TV station" of the national senior soccer team — the Black Stars — for the year 2006.
An agreement to this effect was signed between the Ghana Football Association (GFA) and Metro TV last Friday at the GFA Secretariat in Accra, between the GFA President, Kwesi Nyantakyi, and Mr Talal Fattal - Chief Executive Officer (CEO) of Metro TV.
A statement signed by the Deputy Managing Director of Metro TV, Alhassan Haruna, put the total value of the package at ¢1.5 billion to the benefit of GFA as follows:- Prime Airtime value of ¢1,224,000,000 on Metro TV, available to the GFA for their exclusive corporate use in 2006.
This is in addition to a cash amount of ¢276 million, which was paid to the GFA, during the signing ceremony.
"The GFA will utilise the airtime in this agreement on Metro TV through production of TV Commercials for GFA corporate use; holding of live press conferences; announcements and news coverage; breaking news and advertising cycle; interviews on Current Affairs programme; special episodes on request, and placement of GFA TV Commercials on Metro TV peak and prime time," it said.
The accreditation to Metro TV covers all three Group 'E' matches to be played by the Black Stars in the World Cup Competition against Italy, Czechoslovakia, USA, and all match fixtures as a result of Ghana's further qualification for the second round, quarter finals, semi finals and final of the competition.
The statement further said that the GFA would provide Metro TV exclusive access to cover the Black Stars at their hotel lobby, training sessions and camping facilities.
Metro TV would also hold the right to flash interviews with the Black Stars' coach and players from the grounds and the training sessions in Germany 2006.
In addition, all GFA, Black Stars press releases, presentations and the GALA in 2006, would be covered and broadcast live, exclusively on Metro TV.
"Metro TV is the host broadcaster for Ghana, accredited by FIFA for this year's World Cup in Germany, and exclusive free to air rights holder of television, radio and video screen broadcast, licensed by the LIM Group to Ghana."