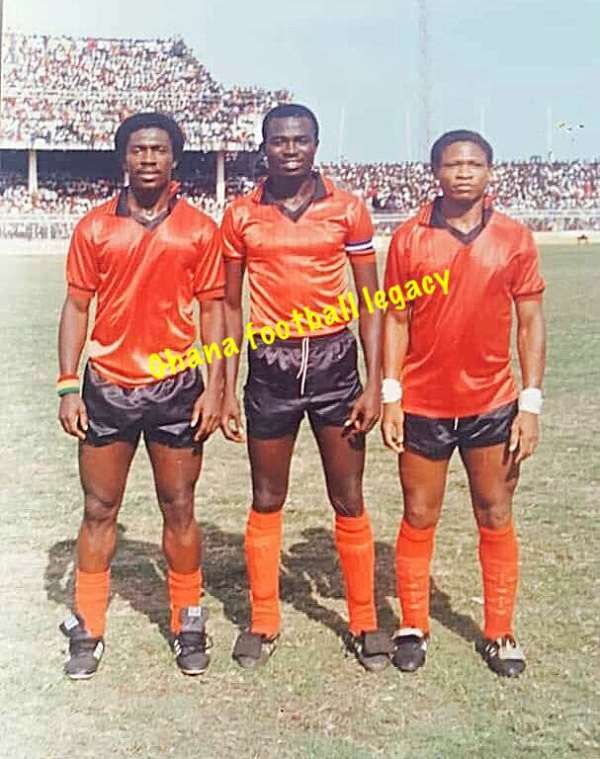 In his heydays, Kwadwo Addae Kyenkyenhene was a standout player not as perhaps the tallest man on the field, but also for his commanding presence in the game either as a centre-back or as a defensive midfielder.
He had one of the longest names in the game (23 alphabets in all) but the onetime Black Stars stalwart and Asante Kotoko captain is remembered fondly for winning the 1978 Africa Cup of Nations with Ghana as well featuring prominently in Kotoko's 1983 African Clubs championship-winning team.
After hanging up his boots, Kyenkyenhene directed his energies into ministry of the gospel of Jesus Christ and is currently a pastor at Ola Akin Temple Harvesters Evangelistic Ministry at Bantama, Kumasi.
In an exclusive interview with Graphic Sports Online's George Ernest Asare, Kyenkyenhene took a trip down memory lane as he looked back at the high and low points of his illustrious football career and also talked about his commitment to winning souls for Christ.
Excerpts of part one of the interview.
GS: During your playing days, commentators on radio and TV referred to you as the player with the longest name in Ghana football. Looking back at your career, how did it all begin?
Addae Kyenkyenhene (AK): I started playing football at a time all colts clubs in the Ashanti Region decided to come together to form one team to represent the region to compete with their peers in other regions.
I was selected to be part of the Ashanti team in those days, but I realised that I had the potential to play at a higher level so I worked hard to join Asante Kotoko.
It was not easy at that time because Kotoko had seasoned players who were excelling both in the local league and at the international level.
Fortunately for me, Kotoko suffered a setback because some key players were alleged to have been induced with money to play it soft to cause us a defeat in a league match.
The accused players were Joe Sam, Dan Oppong and Kuuku Dadzie who were pillars in defence and midfield, but because I was close to the team, I knew that the allegations were totally false but it gained so much currency in the public domain such that the affected players resigned from Kotoko.
Their exit opened an opportunity for me to work my way into the first team because I was then playing in the reserve side. At that time, I was working also at the Engineering Laboratory at the Kwame Nkrumah University of Science and Technology as a Laboratory Technician, so I had little time for training with my teammates.
It was only when I took my annual leave that I had the opportunity to train fully with my teammates and proved that I had the qualities to fit in and become a first-class player.
I recall featuring for the reserve side and performing creditably but in the course of the match, I was suddenly withdrawn and replaced with another player. I was very disturbed because I felt my performance was above average so when I left the field, I isolated myself and remained very quiet on the bench.
While seated, I was called into the dressing room and saw the first team dressing up for the main match but moments later I was handed a jersey to play in that match.
That was when I realised that I had earned my stripes and made a good impression on the team handlers because I played for both the reserve and the first team the same day. That was the turning point in my life as a Kotoko player and I grabbed the opportunity with both hands.
GS: Do you remember the team you played against and the year?
AK: Sincerely I cannot remember because it was almost four decades ago, but my teammates were Ebo Afful, Yaw Sam, Malik Jabir and other senior players who all left the team afterwards and paved the way for other young players.
That was also the time that Kotoko was playing in both the league and the FA Cup, and I played in all five FA Cup matches, including the final against Sekondi Hassacas which we won.
I excelled in both the league and the FA matches and won the heart of many football fans, causing my pictures to be splashed in the print media as the player to watch during competitive matches.
Many radio commentators also used me as a reference point in their discussions and commentaries. It was at the same year that I was invited to play for the Black Stars.
GS: In what year were you invited to play in the Black Stars and how did you cope with the challenges you encountered as a young player?
AK: At that time, Ghana was preparing to host the African Cup of Nations tournament in 1978. In that year, Ghana did not play the regular league but instead organised a novelty league so we started the preparations for the Nations Cup and went to Brazil on two occasions in preparation for the tournament.
Among the players in the national team camp preparing for the tournament were Joseph Carr (Hasaacas), P.S.K. Paha (Eleven Wise) Offei Ansah (Hearts of Oak), Awuley Quaye (Great Olympics), James Kuuku Dadzie (Hasaacas), Adolf Armah (Hearts of Oak), John Nketia Yawson (Eleven Wise), George Alhassan (Great Olympics), Opoku Afriyie (Asante Kotoko), Karim Abdul Razak (Asante Kotoko), Mohammed Polo (Hearts of Oak), Fuseini Salifu (Asante Kotoko), Haruna Yusif (Corners), Isaac Acquaye (Dumas), Dan Kayede (Great Olympics), Abdulai Chesco (SS 1974), Emmanuel Quarshie (Hasaacas), Anas Seidu (Hearts of Oak), Willie Klutse (Dumas), Kuntu Blankson (SS 1974), Justice Moore (Eleven Wise).
These were well-known stars in Ghana football and as a young talented player, it was not easy for me to break into the first team of the Black Stars, especially having midfield general Adolf Armah playing the same role I was supposed to play in the Black Stars.
I was smallish and lanky, not very known in Ghana and abroad, so fighting to push Adolf Armah from his position was my key biggest challenge in those days.
Adolf, by all standards, was very skilful and talented, so I decided that once I had entered into the Black Stars and helped Kotoko to win the FA Cup, I had to push Adolf out of his position. That was my key ambition. It was not easy but that was my goal and so I started working to realise my goal.
Adolf was also on top of his game and commanded respect among the coaches and fans, so it was an uphill task for me to take his position, but that is exactly what I did.
GS. What did you do to push Adolf from his position eventually?
AK: I always trained for two hours on my own before joining my colleagues for the morning session at 7 a.m. I used the two hours of personal training to jog along the major streets and engage in other fitness activities to build my stamina and speed.
Even before joining Kotoko, I always ran from my Asawase base through Amakom, Asokwa, the Coca-Cola junction at Ahensan, Atinga Junction, to the Santasi Roundabout and back to Asawase.
This extra training paid off very well because my fitness was always intact. I continued with it at the Back Stars camp as well and this paid off very well during the field of play as I never lacked stamina
During the 1978 AFCON tournament, Adolf Armah was the cynosure of all eyes and he never disappointed as a midfield dynamo.
However, during the opening match, we struggled to beat Zambia but eventually won 2-1 when Opoku Afriyie scored the first goal, with Abdul Razak scoring the match-winner after the Zambians equalised.
In the second match against Nigeria, we struggled to contain them when they scored the first goal before substitute Willie Klutse scored the equaliser.
In the third match against Burkina Faso (then Upper Volta), Coach Osam-Duodu fielded me instead of Adolf Armah and this also became another turning point in my career as I marshalled the midfield so well that we defeated Upper Volta 3-0, went on to beat Tunisia 1-0, with Razak scoring the goal that won him the accolade 'Golden Boy'.
I played in the final match when we defeated Uganda 2-0 when Opoku Afriyie scored both goals to win the trophy for Ghana.
Before our match against Upper Volta, the coach told me that he would use me so I should prove myself and so I decided I won't disappoint him and I played my heart out.
In the final match against Uganda, I played a long pass from midfield to Opoku Afriyie who outpaced his markers to score the goal to put the game beyond recovery.
GS: How did you feel after winning the trophy for Ghana in 1978?
AK: I have to confess that I was happy that we had won the trophy for good for our country, but have been disappointed ever since because the state failed to honour her promise to the 1978 squad.
Anytime the 1978 tournament comes to mind, I feel a sense of nostalgia because, before the tournament, no nation had won the continental trophy for good. Ghana had won it in 1963 and 1965 and no nation had won it thrice at that time, so the then Head of State [General Kutu Acheampong] organised a dinner for us at his residence and promised to offer each player an estate house if we won the trophy.
He said winning the trophy would be an honour for the nation, so all players should go the extra mile to ensure that the trophy remained in Ghana.
We, therefore, went into the tournament with all the commitment, dedication and zeal to die for the trophy and that is exactly what we did.
If a nation refuses to honour promises to her citizenry, it undermines the forward match of certain programmes.
GS:Why were you absent from the 1982 tournament held in Libya?
AK: I was invited for camping ahead of the tournament but was injured along the way so it denied me the opportunity to be part of the winning team in Libya.
GS: Which players did you form good partnership with when playing for the Black Stars?
It was Dan Kayede, Nketia Yawson and Emmanuel Quashie I enjoyed playing with most. We understood each other so much and helped the Black Stars win many matches.
GS: Has the nation not done anything for the 1978 squad beyond the failed promise of a house to each player?
AK: During the time of President Mahama, something was given to the players, but that cannot compensate for the houses which are very valuable and a fitting legacy for our effort to achieved something for our nation.
GS: What are some of the matches in which you excelled so well during your days with Asante Kotoko?
AK: It was when I started playing for the senior team of Kotoko; I played five FA Cup matches which we won alongside the league.
I still recollect the five matches I played because it were those matches that put me in the limelight as far as my career was concerned.
After those matches, I secured a permanent place in Kotoko as a defensive midfielder and also earned an invitation to the Black Stars and became a household name.
GS: Who were some of your teammates in the FA Cup final against Hassacas?
AK: Salifu Fuseini, Ernest Appau, Haruna Yusif, Ahmed Rockson, Seth Ampadu, Opoku Nti and Papa Arko were among the players who won the FA Cup for Kotoko.
GS: You were also a prominent member of the team that won the African Cup for Kotoko in 1983, right?.
AK: I was a one of the senior players at that time because I had by then played for the team for about 10 consecutive years.
As a senior player I motivated the young ones to win something for Kotoko so that we could write our names in gold, and that was what we did to win the 1983 Africa Cup for Kotoko.
I told them [young players] before the 1983 continental campaign that I had already made a name for myself in Ghana football, so if they wanted to leave a legacy for themselves, they should train hard and be focused so we win the trophy for our club and country. I am happy that they listened to me, fought hard and we won the 1983 trophy.
GS: You won many other trophies during your career, but it seems the FA Cup that you helped Kotoko to win at the early stages of your career remains one of the trophies you had been highlighting since we started the interview. Why?
AK: I cherish that trophy so much because my career turned around for the better after winning the FA Cup. After playing the five matches and winning the competition I became a household name and had the opportunity to play for the national team.
GS: Which other trophies did you win at Kotoko?
AK: Many trophies: league, knockout (FA Cup) and gala. I cannot give the number off-hand, but they were more than eight trophies.
(To be continued)