MTN Fully Represented at Okyehene's 20th Anniversary with GH¢100K Donation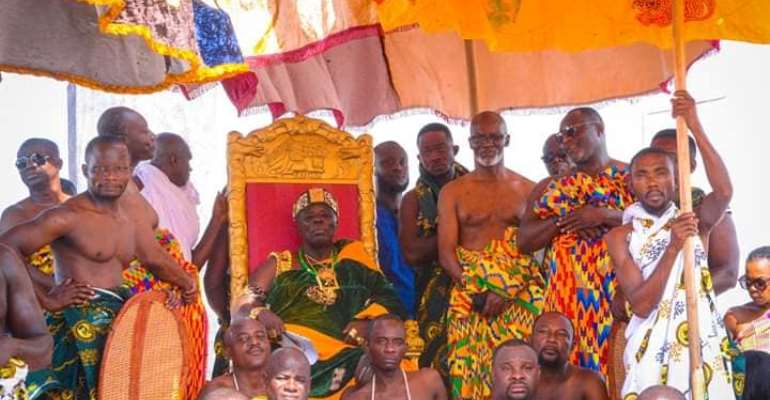 Mobile Telecommunication giant, MTN led by Mr. Stephen Asare, Area Sales Manager for Eastern, Volta and Oti regions participated fully in the 20th anniversary celebration of Okyehene, Osagyefo Amoatia Ofori Panin and also donated a cheque of GHC 100,000 with a hamper cost of GHC 5000 as part of their contributions.
Mr. Stephen Asare noted that they had come to commend him for the good works he is doing for Akyem and Ghana as a whole.
Akyem kingdom, he said, has been very instrumental in MTN leadership in the mobile telecommunication business in this country hence, the donation to the Akyem Monarch in his 20th anniversary for his immense support.
"The Asante Monarch has contributed immensely to our success and as part of our social responsibilities, we are here to show our appreciation to him for the nice reception he has given MTN in his kingdom in his 20th anniversary". He stated.
Osagyefo Amoatia Ofori Panin commended MTN for its continued support to Akyem monarch over the years and expressed his profound gratitude for their kind gesture.
Mr. Stephen Asare later called on Ghanaians to use the Company's new app, MTN Heritage App to showcase the country's beautiful culture to the world.
The MTN Heritage App is a knowledge gathering application by MTN for sharing and showcasing information on Ghana and its culture.
Mr. Stephen Asare noted that the country has been endowed with rich culture, usually displayed during the celebration of traditional festivals and they need to be showcased.
He has therefore invited the general public especially the youth to share short videos and pictures of traditional drumming and dancing and other cultural performances during festival celebrations and other material cultural heritage of Ghana via the app as a way of promotion and preservation.
"We encourage you all to download the Heritage App and share your culture with the rest of the world", he stressed.