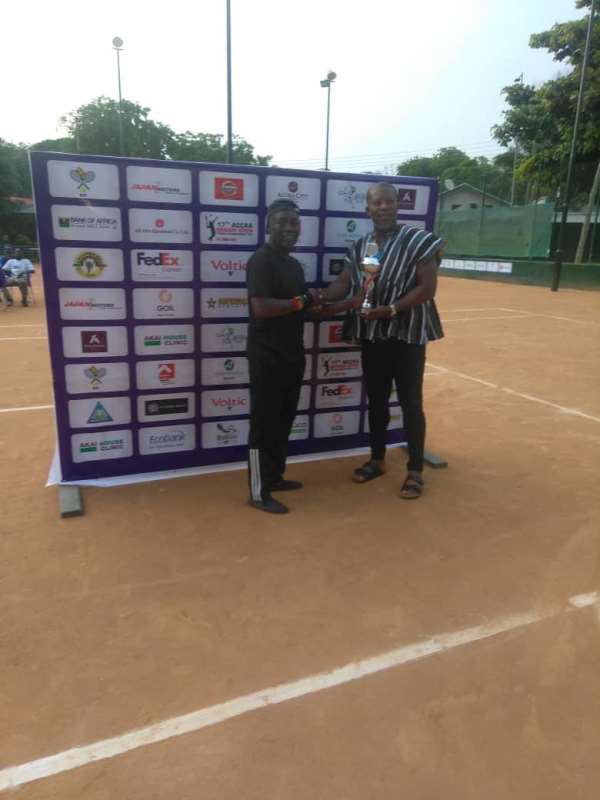 It was a delightful Saturday at the Accra Lawn Tennis Club as Joe Paddymo stunned Adewale Adeleke to win the 17th edition of Accra Senior Open men's 65 plus category. Joe Paddymo walloped Adewale Adeleke 6-0,6-0 in 45minutes.
In the first set, Joe Paddymo took an early break to lead 3-0 and maintained his composure to win the set 6-0. In the second set, Adewale began to move forward only for Joe Paddymo to keep finding a way past him and the set 6-0.
Paddymo later paired with Kofi Taylor to oust Nana Dadson and Charles Quaye 6-1,6-1 in the Men's 65/74 Doubles.
In the men's 35 to 45 singles, George Heckson won after beating Baly Sarassoro 6-2,6-0. Frank Seth New also won the men's 45 to 54 singles after beating Nana Poku 6-0, 3-6,10-4. George Heckson and Ho tennis club President, Cyril Bansah, partnered to beat Nana Sam-Awortwi and Louis Addo 6-4,6-0.
In the Men's Professional event: Current GTF/TFG/TPG No.1 Benjamin Fumi outwitted Reginald Okantey 7-5,6-2. Inform Benjamin Fumi partnered Francis Gbolonyo to beat Reginald Okantey/Nicholas Kumadey 6-4 7-6(5).
However, in the semi-Professional singles, GTF executive board member Cedric Dzelu and active member of Ghana Tennis Club showed his superiority over home-based Isaac Dapaah beating him 6-3 4-6, 11-9.
In the Ladies division: former GTF/TFG/TPG Ladies No.1 Kate Coleman stood tall among her peers after defeating Adwoa Abrokwa 6-0,6-1. Faustina Tagoe ousted Sakumono's Augustina Yamak 6-1,6-1.
Former Ghana Tennis Federation Vice President Kobby Brew made his name after partnering with Joe Oforiata to oust George Mills and Philip Mensah 7-5,6-3 in the men's 55/65 doubles section. In the doubles 45/54 doubles, Hesse Tetteh and Derick Aryee defeated David Carreras and Henry Nortey 6-2,6-4.
This edition of the Accra Senior Open was sponsored by Japan Motors with supports from Accra City Hotel, VRA, SIC life, Atlantic Group, First Atlantic Bank, Voltic Mineral Water, All Afra Electrical Co.Ltd, Bank of Africa, Akai House Clinic, Ecobank Ghana Ltd. Caroco, Baboo Sports Tema, De Simone Group, Alisa Hotel, Goil Ghana Ltd and Aduani Hene rice.