Okyenhene Celebrates 20 Years With Exciting Invitational Golf Tourney At Akyem Tafo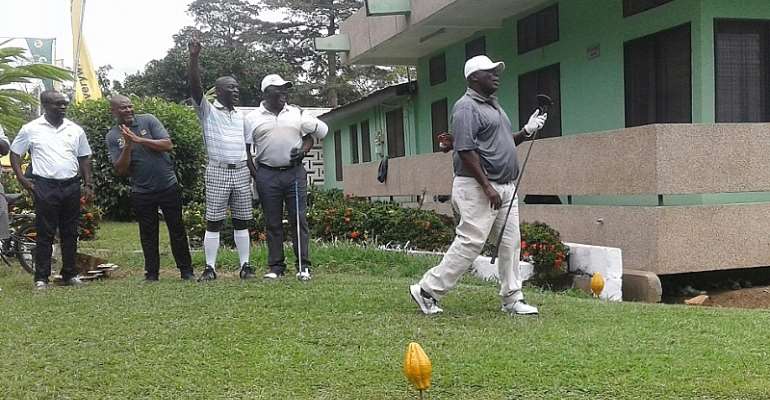 Over 90 experienced and budding golfers from clubs all over Ghana were present at the Cocoa Scientific Research Institute Golf Club at Akymen Tafo in the Eastern Region on Saturday to participate in the Okyenhene Invitational Golf Tournament.
The 19-hole event specially planned as part of the activities to mark the 20th-anniversary celebration of the Okyenhene, Osagyefuo Amoatia Ofori Panin saw golfers from Achimota, Bok Nam Kin in Accra, Royal in Kumasi, Tafo and Sakumo near Tema.
Also in attendance were Sir Sam Jonah, Captain (rtd) Kofi Amoabeng, Michael Aggrey president of the Ghana Golf Association, Frank Edu of CAL Bank, CEO of CBG and Tony Mintah president of the Professional Golfers Association (PGA).
Robert Kuzoe, the acting CEO of MTN Ghana said Osagyefuo Amoatia Ofori Panin is worth celebrating from his dynamic leadership with has resulted in several initiatives for the people of Okyeman and Ghanaians as a whole, especially on the environment.
He disclosed that MTN is donating 100,000ghc towards the celebration of 20 years on the throne.
He enlightened the four pillars of MTN Golf – Leadership, Integrity, Innovations, and Relationships to be hoisted to its highest esteem as the organizers of the Okyenhene Invitational Golf tournament – MTN Ghana are using the event to engage its stakeholders in the Eastern region.
The telecommunication giants find it a great pleasure to share in the significant milestone in the reign of his majesty – Osagyefuo Amoatia Ofori Panin who is one of the key stakeholders and influencers in the country and particularly within the Eastern Regional Business District.
MTN Ghana saluted Osagyefo's consistent interventions in the areas of environment, health and education in the Akyem community.
They wished Osagyefo many more years of peaceful transformational reign characterized by unprecedented economic development and commercial growth of Okyeman.
The Okyenhene applauded all participants and expressed that 20 years looked like yesterday, and recollected coming from the USA to do a 'job' for his people.
He expressed his love for golf as a game that speaks the truth and gives fair results in addition to making good friends.
He invited the youth to play golf and called for an improvement in the game to reach younger people.
Christopher Mbii won the Men's Group A event. All winners of the tournament took home MTN souvenirs, phones and trophies.