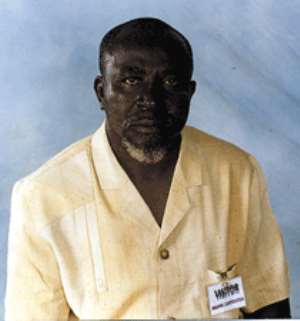 "He Is A Player Manager, Not A Coach" The founder of Kumasi King Faisal, Alhaji Abdul Karim Grunsah, has called on the executive committee of the Ghana Football Association to probe into perceived allegations of player management by the head coach of the Black Stars Ratomir Dujkovic.
He said the coach is being economical with the truth if he denies or rubbishes those allegations.
In an interview with Peace FM, the outspoken Alhaji Grunsah hinted that late last year, coach Ratomir Dujkovic invited Eric Gawu and asked him to sign a contract document which he, Doya had prepared. As a sign of submissiveness, Gawu reported the issue to his boss Alhaji Grunsah, who contacted the coach on phone and requested him to fax the said contract to King Faisal for evaluation, but the coach refused.
Alhaji Grunsah cited the CEO of King Faisal, Mr. George Amoako, as his witness.
According to Alhaji Grunsah, he reported the conduct of the coach to Mr. Kofi Nsiah, the general secretary of the FA, who acted on the issue by asking the coach, but he denied having any knowledge of a sort.
"From then onwards, the coach refuses to greet me whenever we meet" says Alhaji Grunsah. He lamented as to why the FA scribe did not invite both parties; himself and the coach at the time he wanted to ascertain the truthfulness or otherwise of the issue.
When asked about the performance of the coach at the just ended nation's cup, Alhaji Grunsah quickly retorted "the coach should be sacked, four (4) months to prepare for the world cup is not four (4) minutes neither is it four (4) hours, we can change the coach and make the needed impact at the world cup. Coach Ratomir Dujkovic had earlier debunked the allegations of player management at a press briefing organised by the executive committee of the FA.
The coach specifically answered questions bothering on Aminu Dramani's transfer from Hearts of Lions to Red Star Belgrade, and said he only did the "connection" between the player and Red Star Belgrade and that he is not managing any Black Stars player.
PeaceFm contacted Mr. Kofi Nsiah for his reaction to Alhaji Grunsah's comments but the General Secretary of the FA, said he prefers to stay away from those allegations and concluded that if Alhaji Grunsah wanted to report officially, he should have put his concerns on paper and send it to the FA.