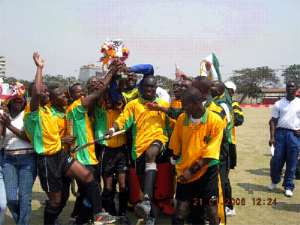 Marine Sticks of Ghana Armed Forces finished-off the Areeba Hockey league competition with an emphatic 7-0 thrashing of un-fancied Police in a one-sided match. The match was the last of the series of matches that climaxed the final day of a very competitive league competition.
Marine came into the match virtually assured of the championship having done the difficult part of the job earlier in the season. Though the performance of Marine Sticks slumped during the latter part of the competition, the coach and the team picked themselves up to end the season on a splendid note. It took 15 minutes to break the resolve of the below-par performers when national star Edward Oblie scored from open play. David Ghablah doubled the lead just before half-time from open play to end the half 2-0.
The second half saw the Mariners go on the rampage with Patrick Taylor (38th), Oblie (49th & 54th), Ghablah (55th) and Daniel Laryea (62nd) completing the demolition and the consolidation of the championship. The jubilant players carried Areeba coach of the year Edmund Zankoh shoulder high and celebrated in style.
In the other matches of the day, Golden sticks claimed the runners-up position by after beating Reformers 2-0 while Exchequers succumbed 2-1 to Trustees of SSNIT.
In a colourful closing and trophy presentation ceremony, the Chairman of the Ghana Hockey Association, Oko-Nikoi Dzani paid tribute to the institutions that have consistently supported hockey teams. He expressed the gratitude of the Association to the title sponsors, Areeba for the partnership and recounted how the sponsorship had assisted Ghana hockey to attain some great results during 2005. He also made a donation of cash and other prizes on behalf of NDK Financial Services to be presented to deserving players and teams.
The Areeba honours list for the season was as follows:
Areeba Player of the year (Men) went to young national star Salya Nsalbini of Marine Sticks while the women's award went to Ramatu Abass of Extinguishers. Coach Edmund Zankoh was voted Areeba coach of the year after guiding his men to their first ever championship. Emmanuel Nartey of Trustees picked the top scorer (men) honour having scored 10 goals while Beatrice Darko of Extinguishers picked the top scorer (women) with 7 goals. Marine picked the team of the year in the men's category while Extinguishers picked the women's category. Other awards include, Abena Amponsah of Reformers, Alfred Armah of Exchequers and Awuah Nyamekye of Veterans for dedication and valour. Dr. Kweku Fordjour was awarded the most senior hockey player, Elikem Akaba, promising player (men) and Rejoice Kumatse of CEPS and Samantha Abdulai of Reformers jointly claimed the promising player award in the women's category. National goalies Opoku Aikins Danso of Exchequers and Evelyn Ahiabor of CEPS claimed the best goalie awards for men and women respectively while the best defender award for the men and women went to national stars Charles Moses of CEPS and Rejoice Noi of Police respectively. Marine Sticks and Extinguishers were presented with the Areeba championship trophies while Multistix were also handed the championship trophy for wining the Areeba Senior League. No Team P W D L G/F G/A Points GD 1 Marine 12 9 2 1 35 11 29 +24 2 G Sticks 12 8 2 2 28 9 26 +19 3 CEPS 12 6 3 3 24 11 21 +13 4 Chequers 12 6 3 3 22 11 21 +11 5 Trustees 12 4 3 5 26 23 15 +5 6 Reformers 12 2 1 9 13 26 7 -13 7 Police 12 0 0 12 1 60 0 -59