Mubarak Wakasu says it all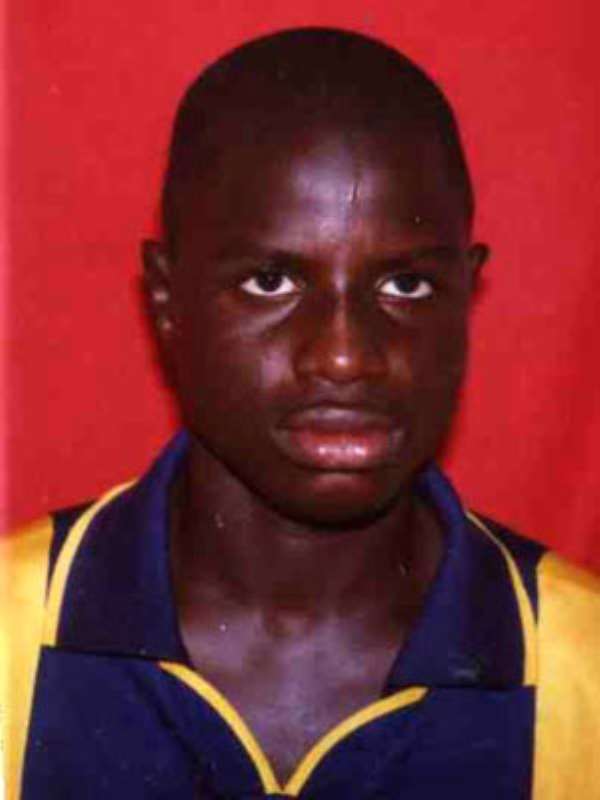 AshGold's sensational intelligent midfielder Mubarak Wakasu shares his soccer aspirations with AshGold in Focus at the club's Secretariat on Monday 28th November 2005. These are some of the excerpts.
AshGold in Focus: Good morning Wakasu and how are you?
W/B: Thanks. I am doing well by the help of Allah. AshGold in Focus: Who is Wakasu Mubarak?
W/B: I was born and bred in Tamale. I played for a colts club called Republican FC in Tamale and was scouted to AshGold Academy. My hobbies are dancing and playing soccer. I am a utility player but prefer to play at the middle of the pitch. Hamza Mohammed is my local admired player. I am a left footed player and very tough on the turf. My best food is TZ.
AshGold in Focus: How did you gain entry into the National U-17 team? W/B: I must first of all give praise onto the Lord for his mercy and love. Secondly my warmest gratitude goes to coach Oti Akenteng who identified my potentials and recommended me to coach David Duncan. So when I was invited into the national team I worked very hard and won the hearts of the technical handlers and ever since I have been with the team.
AshGold in Focus: Did you encounter any difficulty in the selection of the first 18 players?
W/B: Of course there was nothing like automatic position in the national team. All that one needed to do was to fight for position and that was exactly what I did. I did not joke with my training and took every assignment from my coaches seriously. All my aspiration in life was to play for my country Ghana so when the opportunity came I took advantage of it.
AshGold in Focus: Did you play in the preparatory matches for Starlets towards the African Youth Championship held in Gambia?
W/B: No unfortunately I got injured at the training grounds. That prevented me from featuring in some of the qualifying series. But I later joined my colleagues and played some few matches before we qualified for Gambia. AshGold in Focus: How was the tournament like in Gambia?
W/B: Well I played only two matches but did marvelously well. The whole world saw how Gambia eliminated us from the competition.
AshGold in Focus: Could you brief me about how you were red carded in your first match against Peru U-17 side?
W/B: Though my tackling was physical but I think the decision of the referee was so harsh. My exit really affected the performance of my colleagues and I can confidently say that it was a contributing factor for our abysmal performance.
AshGold in Focus: Have you learnt a lesson from that?
W/B: Yes of course. I felt so bad watching my colleagues from the stands playing at a numerical disadvantage. I think I have to be careful next time in order not to encounter such a nasty incidence again.
AshGold in Focus: How did you see the performance of AshGold?
W/B: It was so disappointing for AshGold to place 7th on the league table taking consideration of our facilities. Yet I will urge our fans to be a little tolerant. At times we hear all the insults on the pitch and that rather frustrate us. We accept the fact that things did not go on well as expected but don't you think the fans could have shouted cheers and encouraging words rather than the insults and castigations?
AshGold in Focus: How was your performance in the trials with Tottenham Hotspurs?
W/B: Well it was not as expected due to the fact that I had earlier picked an injury in my last league match against RTU at Berekum. All the same I managed to do my best in the friendly match arranged for us. After that game the head coach of Tottenham Hotspurs approached me at the dressing room and showered commendations on me for the wonderful display of skills and flair. I was made to understand that they would consult my employers and finalize my transfer deal as soon as possible. I am waiting patiently for the outcome.
AshGold in Focus: Your final word to the fans.
W/B: They should rally behind Mr. Kudjoe Fianoo to bring to bear his diverse exuberance in soccer. Also I urge all the fans of AshGold to stand firm in this difficult moment. AshGold is my mother club and I will never forget them in my lifetime.
AshGold in Focus: It has been nice talking with you.
W/B: I am also grateful for such a wonderful opportunity. Thank you.