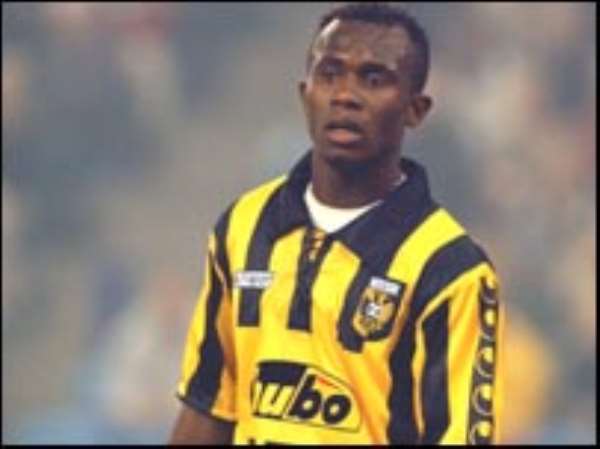 The Management of Vitesse Club has been disappointed in the refusal of Matthew Amoah to extend his contract. The arnhemse club could not satisfy all the requirements of the attacker, 25. Amoah rejected his contract extension obligation. Vitesse will now need possible strengthening as soon as possible.
Already many hope the club will be able to strike something (financial) in the winter, but depend on factors. There is a tight budget for the purchase of a player. The departure of other players would create more space. The new player must come on in the summer, when Amoah is definitely gone.
Vitesse did a last-stand effort to keep Amoah still, mainly for financial considerations. The club wants to cooperate even in a departure in the summer when Vitesse will still not be able to receive a transfer fee. A last conversation, yesterday with Amoah's Kees Ploegsma, brought no outcome to the matter, observers said. Unknown is whether Amoah have found a team elsewhere in the meantime or not.
If you cannot meet all his requirements, you expect that a player agrees to go. We have eventually done much effort to still keep him. I have been disappointed that it has not succeeded. We both could have profited from the situation, which is now not the case, says football matters manager Jan Streuer of Vitesse.
Already Amoah did not give in earlier to further stay at Vitesse. The Ghanaian International sees out his contract in the middle of 2006 and then leaves on a free transfer. That means that Amoah can get a better contract at his new employers. However, the player runs the risk of getting injured in the coming months. In that case Amoah in the summer of 2006 will have difficulty getting a contract. "that is risk that the player takes", says Streuer, who has never faced a player, who aware his contract runs out, wants to leave on a free transfer. It is the first time that this has happened to us. It happens everywhere sometimes, it is not different.
We still hope to sell him in the winter, but if the player does not cooperate, we'll stop... The club hopes to get rid of Amoah to obtain a new player. Vitesse will not let Amoah go for an apple and an egg. "we want a good performance this season, however, but you must have a good substitute necessary as and when Amoah leaves."
Streuer yesterday evening did not discuss the reasons which Amoah indicated for his decision. The player himself was not available. These crucial hours does not go well with a part of the arnhemse public. On two occasions he was booed by his own fans. That led to much misunderstanding.
Vitesse is at present in the market looking for a good, cheap substitute. We sit each week in many countries and follow a lot of players. But at this moment we are not concentrating on someone busy, says Streuer