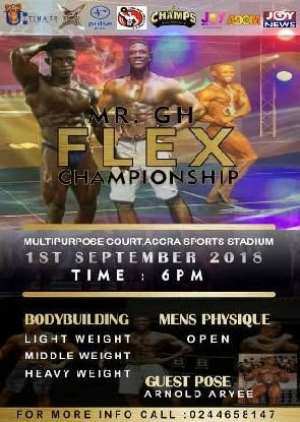 The finest bodybuilders in the country will put their carved muscle skill to test when the maiden edition of the Mr GH Flex Bodybuilding Championship comes off at the Multipurpose Court of the Accra Sports Stadium on Saturday, September 1.
The event will form part of activities to mark the 2018 Homowo festivities of the chiefs and people of Osu and assemble crack bodybuilders from across the country to compete for honours.
Athletes will participate in categories including lightweight, middleweight, heavyweights and men physique pose.
Speaking at the launch of the event, the Chief Executive Officer of Ultimate Fitness Palace, organisers of the event, Mr Arnold Anane Aryee said revealed that the overall winner will win a cash prize of GHC 5,000 and trophy while winners at the categories pocket cash prizes ranging from GH¢1,500 to GH¢500 in the top three positions.
Mr Aryee also a former champion in the sport announced that he will join some established bodybuilders over the age of 40 for the special Masters Category. This will bring back on the stage some former bodybuilding kingpins including Christopher Anto a.k.a. Sabato, Paa Tee, Mustapha Richardson, a.k.a. Captain, Yaw Adofo King, Sam Addo, Kofi Salia a.k.a. Asaase and Yaw 'Sweat' Azure.
The day's activities will also be spiced up with a weightlifting competition dubbed 'Mr Gh. Strongest Man' on the same day.
Participants would be drawn from the middleweight (0-85kg) and heavyweight (86kg and above) to take part in the bench press, squat and dead-lift.
At stake is a winner's prize of GH¢2,000 with the first and second runners-up walking away with GH¢1000 and GH¢500 each from the various categories. This year's championship is sponsored by Ultimate Fitness Palace, Pulse Fitness, Ironman Supplements, CHAMPS with JOY Prime, Adom and Joy News as media partners.