'I Don't Mind Coaching Hearts Again'- Kenichi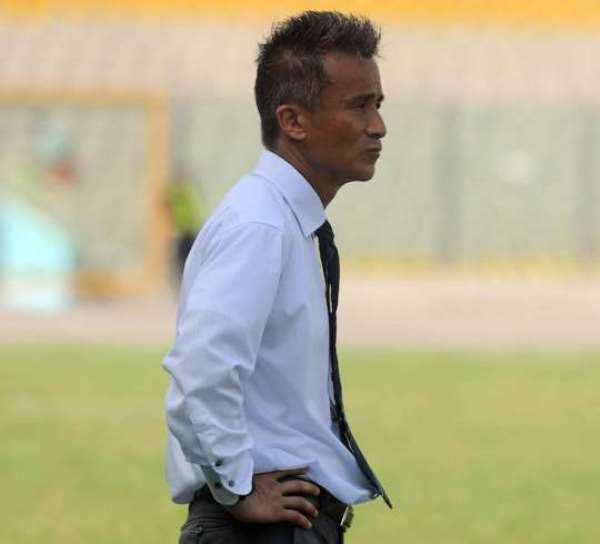 Kenichi Yatsuhashi, coach of Aduana Stars, has said, he does not mind coaching Accra Hearts of Oak again, despite the frosty relationship that led to his departure from his first club in the country.
He said, given the opportunity he would return and do things differently from the way he did earlier when he was in charge at the Accra based club.
Coach Kenichi in an interview with the GNA Sports, denied reports that his contract with Hearts of Oak was terminated because of his temperament, adding that it was actually terminated 'mutually' because of the delay in the commencement of the league that season.
'When I signed the deal with Hearts of Oak, it was October or November 2015 and that time the league was supposed to start in December and end by June or at least the first week of July.
"Staying on would have clashed with the last module of my Professional Coaching Licence Course, which was in the second week of July, by which time the league would have been over,' he explained.
Coach said he had asked the management of Hearts of Oak to let him leave for two weeks to attend the course and allow one of his assistants to take over while he was away, but they did not want to do that, so they had to terminate the contract mutually.
He, however, admitted that there were some conflicts between him and the management of Hearts before that, adding that, 'They were at fault and I was at fault, but it has been two years since then and I have overcome that,' he added.
Coach Kenichi, however, gave a share of the blame on his inexperience at the time, saying it was his first professional coaching job and it was at probably one of the biggest clubs in Africa.
The Japanese American trainer said he had to do things his way because Heats of Oak was a big club and he could be fired for losing just a game.
Coach Kenichi said he was proud of achievements with Hearts of placing second on the league table, adding he thought it was a pretty decent achievement for a 'rookie' coach at such a big club.