GSA / FINA Level 1 Coaches' Swimming Clinic Starts In Accra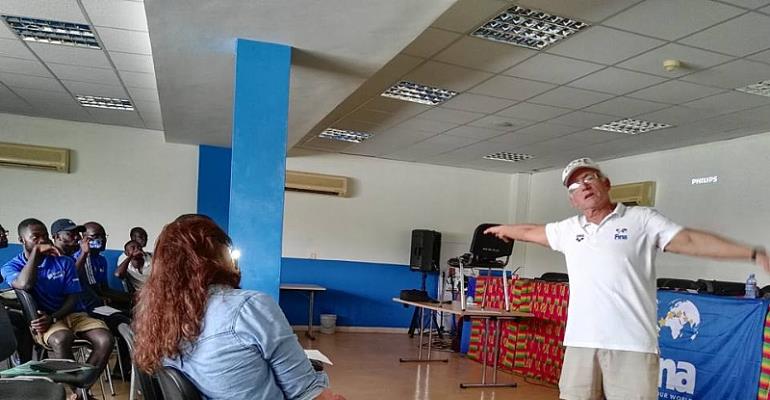 The Ghana Swimming Association, with support from the International Aquatic Federation, is organising a five-day coaching programme for it members at the Media Center of the Accra Sports Stadium.
The training program is being conducted by experienced American swimming coach Rick Powers, who has praised the local coaches for their commitment and discipline.
Rick Powers who has coached the national teams of six countries and has organized similar programs in many countries said it is good to spread the message of swimming and urged more people to get involved in swimming.
Rick Powers said he would be teaching the coaches more about techniques such as swim sequence for butterfly, freestyle, backstroke and breaststroke.
National Treasurer for the Ghana Swimming Association and a bureau member of CANA Zone 2, Farida Ibrahim said the training, which is being sponsored by FINA, is aimed at enhancing and building the capacities of Ghanaian coaches in swimming.
"The aim of organising this clinic is to give interested Ghanaians the basic techniques in the different types of stroke and swimming.
The FINA level one coaching clinic will also be an introduction to swimming theories and practicals,
"The training is also aimed at giving our coaches some professional training and also increase the number of coaches in Ghana".
President of the Ghana Swimming Association Theophilus Wilson Edzie told Yours Truly swimming is becoming big and bigger as the days roll and wants corporate Ghana to support the association.
He expressed that training the coaches or refreshing them is good for the sport and with the recent achievements and awareness in the media, they hope to get to their dreamland.
He said swimming is part of the culture of Ghanaians and now people are moving from recreation swimming to competitive swimming and that is where companies must come on to support in identifying talents and grooming them for international competition.
He hinted that swimming has some problems which can be solved by storing or harvesting of rainwater for the pools as rainwater is very light and not contaminated with minerals.
He praised the participants and coach Rick Powers, hoping that the course would be successful and Ghana Swimming would attract sponsors.