KP Boateng Blasts Popular Swedish Fashion Retailer H&M Spark After Tagging 'Black Child As A Monkey'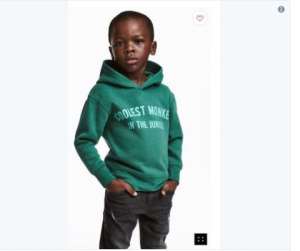 Swedish retailer H&M has come have been slammed and criticized for its children's line catalogue that shows a young black boy wearing a green sweatshirt with the slogan 'Coolest monkey in the jungle'.
Ghana and Eintracht Frankfurt star, Kevin-Prince Boateng among other recognized personalities around the globe have been angered by the post with some threatening to burn their products from the fashion company.
While H&M has since withdrawn the ad, reaction to it has continued on social media, with Canadian musician The Weeknd earlier saying he would no longer work with the retailer as its brand ambassador.
Kevin Boateng used his Twitter handle which has 1.63 million followers to tweet his furore about the ad by the company.

Are you serious @hm ?????? #havetheylostthereminds #notoracism pic.twitter.com/FS4nonw4qQ — Kevin-Prince Boateng (@KPBofficial) January 8, 2018
US basketball superstar, LeBron James, blasted the retailer on his Instagram saying, "@hm u got us all wrong! And we ain't going for it! Straight up!"

@hm u got us all wrong! And we ain't going for it! Straight up! Enough about y'all and more of what I see when I look at this photo. I see a Young King!! The ruler of the world, an untouchable Force that can never be denied! We as African Americans will always have to break barriers, prove people wrong and work even harder to prove we belong but guess what, that's what we love because the benefits at the end of the road are so beautiful!! #LiveLaughLove❤️ #LoveMyPeople🤴🏾👸🏾👨🏾‍⚖️👩🏾‍⚖️
A post shared by LeBron James (@kingjames) on Jan 8, 2018 at 3:58pm PST
Samuel Ekow Amoasi Appiah
Sports Journalist