Black Stars Defender Nicholas Opoku Denies Reports Of Terminating Contract With Club Africain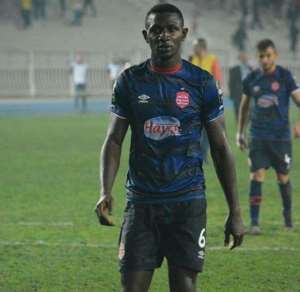 Black Stars defender Nicholas Opoku has denied reports that he has terminated his contract with Tunisian giants Club Africain.
The former Berekum Chelsea defender was reported to have ended his relationship with Tunisian giants according to reports in the Tunisian media.
The cause of his departure was not immediately known but the player was reported to have announced on his Facebook age that his marriage with the Tunisians has ended.
But the player in another social media twist has rubbished the announcement on Twitter by saying he is not the bearer of the facebook account that announced his departure hence the news is false.
Fake account, debunk this post, @NicOpoku haven't ended his relationship with Club Africain
My official FB account https://t.co/FaH57ACRu4 pic.twitter.com/sMpGkasa4S
— Nicholas Opoku (@NicOpoku) January 3, 2018