Ohene Karikari decries fallen standards of athletics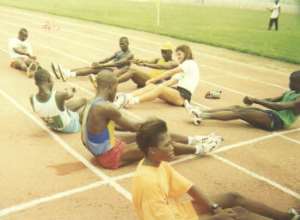 Kumasi, July 23, GNA - A former national athlete has advocated a multi-sectoral approach to the development of athletics to enable the country to regain her reputation in the sport at international competitions. Mr Ohene Karikari, a bronze medallist in 100 metres at the 1974 Commonwealth Games in New Zealand, said, "The responsibility is not at the doorstep of only one person or institution, but a collective one which we must work towards." Mr Karikari, who was last month appointed as the Ashanti Regional Sports Development Officer, was speaking in an interview with the GNA Sports in Kumasi on Saturday. A participant of the 1972 Olympic Games in Munich, Germany, the former national athlete also took part in the All Africa Games at Lagos in Nigeria in 1973 in which he won gold for Ghana in the 100 and 200 metres events. He bemoaned the dwindling fortunes of athletics in the country, saying, this development called for serious brainstorming by stakeholders in the sport to ensure its revival. Mr Karikari pointed out that whereas Nigeria, for instance, organises a minimum of 28 major competitions every year to enhance the performance of their national athletes, Ghana virtually finds it difficult to organise even few events.
"This pragmatic approach to the sport had cushioned our neighbouring countries ahead of us in achievements", he said. The former national athlete entreated the private sector to complement government's efforts in the provision of facilities to replace outmoded ones and sponsorship packages for national and student-athletes if the country were to take its rightful place in the sport.
He indicated that the regional sports development office had initiated a programme where representatives of the security agencies engaged students in regular competitions at the Baba Yara Sports Stadium in Kumasi as a measure to unearth potential athletes for the nation. The programme, he said, would also be extended to other sporting disciplines with the view to developing sports at the grassroots.