December 7, 2017
|
Football News
The Life of A Local Based Player (Part 3)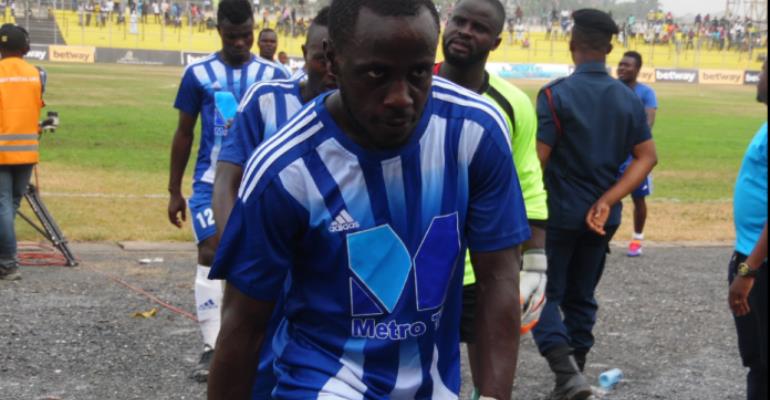 On 17th October 2017, I applied for UK visa through the TLS contact with a reference: GWF045704078 so I could visit my senior brother in the United Kingdom for his graduation ceremony and also spend the Christmas holidays as well.
I received a text message via my email address on 6th November 2017 that my passport and other supporting documents which included a letter of introduction from the Ghana Football Association and the invitation from my brother had arrived back from the British councillor for collection. I was denied visa at the end and these were the reasons:
1. My monthly salary was low which was below 120 pounds.
2. I have no property or asset in Ghana.
3. By his Grace I have travelled to countries outside Ghana, with my ties with these countries, the fear is that I will not return after I have exhausted my stay in the United Kingdom.
I felt disappointed because the reasons given to me did not make sense in my thinking. The positives I took from this experience is that, if I was paid a good salary which is equivalent to 500 pounds, where I could have acquired a house and a car from my signing on fees and salaries, it could have been an asset or property which could have met the requirements. I am just imagining the number of locally based players who have suffered a similar fate like mine, which was not their fault after all.
Most teams in the Ghana Premier league train early or late morning from Monday to Friday. These locally based players then turn to do "Lalasulala" after training, walking through the scorching sun, from stalls, shops and offices of supporters and sympathizers of clubs for money which will be used for food and transportation the next day.
Other players will visit their managers who will give daily upkeeps which they use to feed the family, pay utilities and other endeavours as well.
For teams that train in the afternoon, some of these locally based players do other jobs as support so they can support themselves in the purchase of boots and other sports equipment. Some of the work they do are trading, teaching, working with security services, mobile money merchants, etc before they report to training in the afternoon.
With rest been one of the five pillars of optimal health, most players do not get the full rest they need for the body to relax and the muscles built during training, to have it impact on performance. This leads to injuries and deep in players form as the league progresses.
Most players that play in the Ghana Premier League are tagged to be disrespectful and rude due to how they have handled issues confronting them.
These are due to psychological issues they go through in their daily lives and some of these are finances, family problems, lack of playing time etc. It affects their performances on the pitch and training especially when they work under expatriate coaches who have not gotten any first-hand information of the hustles and life of a locally based player in Ghana.
Coaches want 110 percent of commitment from these players so they can excel and achieve their objectives at the end of the league season. But how can this be achieved, if the locally based player does not have the right mind to play that role? There have been a litany of events that showed clashes between local-based players and these expatriate coaches because both sides felt disrespected because of the others inaction towards them.
Players cannot do simple basic training modules been introduced by these coaches or understand simple drills and techniques which makes them not adjusting to their philosophy.
Will u blame these players who are going through these new phases of training for the first time in their football lives? How were these players developed as children playing football? Some of these coaches out of their own selfish interest, sacrifices players who are giving in their all for other ones they think they can make money out of them and sell to clubs they affiliated to outside Ghana for business.
It isn't surprising that a club will have his leading goal scorer on the bench or not called at all in the 18 man squad for 10 games consistently in the Ghana Premier League. When the coach is asked at post remarks, the player is linked to sickness, team unity, time is not up for him, truancy when it comes to training, not putting too much effort in training etc which does not make sense logically in thinking but yet, this same player scores all the goals in training games and puts up his best at training as well.
Why wouldn't a player come out rudely with displeasure after all he goes through all these horrible experiences in his life. Why wouldn't he come out rudely to question behaviours which are not fair to him by coaches, when he sees he is on top form and observers are giving him thumbs up for his hard work as well?
I read a publication on ghanasoccernet on 5th December 2017 about the story of the former deputy captain of Bechem United, Solomon Mensah, who is not ready to renew his contract and have decided to part ways with the club.
The reason was mind-boggling which showed he is been owed salaries for 3 months. How does he feed himself during this time and his two young siblings who are far away from him? I know Bechem United is not the only club who is guilty here but other Ghana Premier League teams as well.
I recounted an experience with Badu Asiamah who is a defender of Accra Great Olympics FC, who shared with me a true life story of his former teammate.
He said the player took a machete and walked into the office of the club, threatening the lives of the management of his team if his signing on fees are not paid to him. The money was delivered to him the following day after the incident. Why should all these be happening to our local based players who are projecting the name of Ghana to the whole world?
Club owners are doing their best to make sure local players are comfortable and stay in the Ghana premier league at the end of every football season but they can do more to help players excel in to bring out the best of them.
I am Abel Manomey and a local based player deserves the best.