FIFA U-17 WC: Guwahati Pitch Declared Unplayable After Ghana, Mali Duel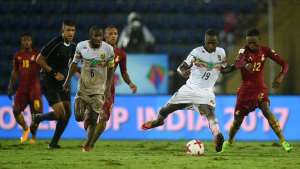 World's football governing body, FIFA, have shifted the U-17 World Cup semi-final between England and Brazil from Guwahati to Kolkata.
Torrential rainfall last Saturday marred the beauty of the quarter-final encounter between Mali and Ghana in a game that saw the Black Starlets lose by 2-1 thereby exiting from the competition.
Match officials green-lighted the game to go ahead following a pitch inspection 90 minutes before kick-off but the intensity of the rains at half time clearly interrupted play but the game continued to the disgust of Ghana coach Samuel Paa Kwesi Fabin.
Fabin was furious with the questionable decision to play the game at all. He said: "We've not encountered anything like this before," said Kwesi Fabin. "I thought the game should have been abandoned and played in some another time but those who are organizing they said we have to play so we played."
Meanwhile, the Black Starlets arrived in the country on Tuesday following their exit from the competition.