Lee Manuel To Fight For ABU Heavyweight Title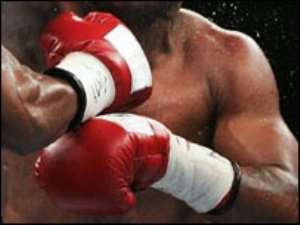 Boxing promises excitement galore and even more. Barring any unforeseen circumstances, Ghanaians will be privileged to witness yet another heavyweight bout in the country, as former World Boxing Association (WBA) Light heavyweight champion, Lee Manuel Osei, Spain-based Ghanaian, stages a "comeback" to mount a ring with Nigerian Abe Adewale in a African Boxing Union (ABU) vacant heavyweight title on August 27 this year.
Lee Manuel who had been inactive for some time now, due to external hiccups, sees the bout as a springboard to re-launch his professional career.
It would be the first bout for him in Ghana and the 35-year old is hopeful of making a successful "return" to the ring as he looks forward for another taste of a world crown.
At a press conference in Accra, Lee Manuel, 41-4-1 (21kos), promised to annex the world title for himself and the nation by the next twelve months.
"Let me assure you the WBC title would be Ghana in a year's time," he prophesied confidently, adding that the absence of Ghanaian boxers in the division necessitated his move to Ghana to re-launch his career and put himself and Ghana on the world map.
He consequently made a passionate appeal to boxing enthusiasts to re-direct their energies to throw their weights behind him in his quest to make the nation proud at the world level.
Manuel was as well, a former titleholder in the light-heavy weight and cruiserweight divisions.
His opponent, Adewale and his managers would be expected in the country in a few week's time to append their signatories to the contractual agreement regarding the bout as authorities of ABU have already given approval for the fight.
The bout is one of the many being put together by the Sikaprix Boxing Promotion syndicate.
Adama Mensah, former international heavyweight contender would square off against Evans Tyson in one of the under-cards for the night.