Adjei-Darko, Others Due In Early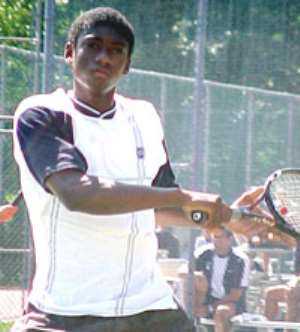 Ghana's top seeds, Henry Adjei-Darko, Gunther Darkey and Salifu Mohammed are likely to arrive in town a fortnight earlier to enable them to prepare adequately for their Davis Cup Euro-Africa Zone 2 qualifier against Georgia slated for July 15.
This was confirmed to the Graphic by Mr Jeff Abeasi, the Chairman of the Ghana Tennis Association.
According to him the association is also working to secure sponsorship from some companies, though it has not yielded any positive results so far.
"We have also sent our proposals to the Education and Sports Ministry, but we are yet to hear a response from them," he added.
A lot of concern was raised from all quarters about the late arrival of the players for the qualifiers played last March, which many say was the cause of the loss to Finland. After that tournament former Deputy Education and Sports Minister, Mr Joe Aggrey, and GTA Vice-President, Mr Peter Annan, also suggested the organisation of warm-up tournaments with cash prizes ranging from $500 to $2000 to motivate the players to arrive on time for the matches.
In a separate interview, Golden Rackets Coach, David Churcher, said Adjei-Darko and Gunther admitted to him in a conversation that their inadequate preparation for the Finland clash affected their performance and will be home on time to ensure that their past mistake is not repeated.
About the team's chances, Coach Churcher said "in realistic terms, it would be very difficult to beat the Georgian team. Their top seed is currently ranked 50th by the International Tennis Federation (ITF), as against Adjei-Darko's 426. Therefore it will take some guts to beat him. However we will work hard to overcome the hurdle".
Henry Adjei-Darko has shown remarkable improvement since last March. As of the last Davis Cup tie he was ranked 540 in the world but has moved up to 426 in a matter of four months. Salifu Mohammed, currently number 1106, is in India on circuit and is working towards moving up the rankings. Without any hitches, all the players are expected two weeks before the crucial duel with Georgia.
With a little over a month to go, sponsorship has not been forthcoming and the GTA is working at it but it is hoped that the Education and Sports Ministry will give the association a positive response to enable the hosting of a successful two-day Davis Cup Tourney.