WAFA coach Klavs Rasmussen mocks Hearts, says team could have scored 10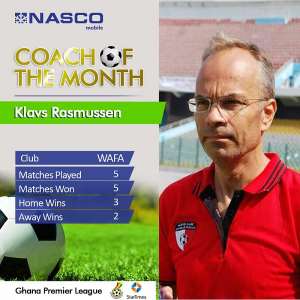 WAFA Klavs Rasmussen says his team could have scored double-digits against giants Hearts after mauling the Phobians 5-0 in the Ghanaian top-flight on Sunday.
Hearts are yet to recover from their worse defeat suffered since the club's formation in 1911.
The club's disastrous defeat has left their supporters in pain and in tatters amid fears the long wait for a Premier League crown could be stretched further.
And the Danish has taunted his side could have worsened their plight.
'The preparation was good, the players understood the team tactics and they did very well," he said
'I'm not surprised. Yes, the amount of goals looks surprising but if you watched the game, it could have been 10.
'It was not an easy game; it was a very high level of performance from the boys.
The league leaders travel to Accra to face Liberty Professionals on Friday.
For more Ghana football news visit www.ghanasoccernet.com