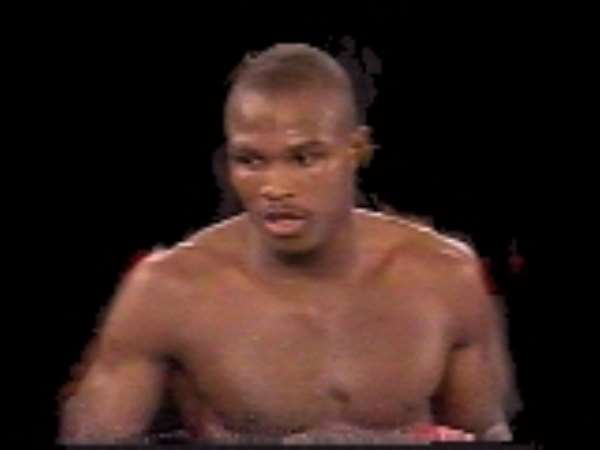 IKE 'Bazooka' Quartey says his next fight with Kelly 'The Ghost' Pavlik in Tennesse, USA, on June 18 will be another knockout, which will come earlier than the McNeil bout.
The Bazookaman said the upcoming bout would have a different touch to prove to all Ghanaians that he is going in for the kill in the middleweight division.
He said this in an interview with the Graphic at his Zongo Junction office last week.
Brimming with confidence, and obviously very relaxed, the former world champion said, "the fact that Kelly is undefeated does not spark any fear in me at all.
Supposing I were still a world champion, I would have had to defend it against boxers of his calibre so I'm not moved the least".
Even after that stunning performance on January 14 many remain sceptical about whether or not Quartey means business.
Ike trains six times every week, and this includes an hour and more of jogging every morning after which he does his workouts in the gym.
In a very reflective mood, Ike and his trainer Dan Oko Odamtten watched videos of Pavlik/Ross Thompson and Pavlik/Pedro Ortega bouts. While doing this, the two brainstormed on how to overcome the young American.
A close observation of Graphic, Kelly Pavlick reveals that he is a durable and aggressive boxer. He always launches the first attack, mostly with his left and supports it with a right jab when the opponent's guard is open.
Pavlik, until he turned professional at the age of 18 excelled in amateur boxing. In 1998, he won the USA National Junior Golden Gloves amateur championship.
That same year, he won the National PAL amateur championship. In 1999, he added the National Under-19 Amateur championship to his collection.
A toprank boxing website quoted the youngster as saying "kids on an amateur boxing team in Cleveland started calling me 'the ghost' because I never got hit that much in my fights. The nickname has to do with my defensive abilities".
Trainer Oko Odamtten said their approach to training ahead of the June 18 is that of extreme seriousness. "We are doing all the drills as usual as if our lives depended on it", he said.
In his 18-year-old career, Quartey has ended the undefeated run of opponents like Jaffa Ballogon, Juan Carlos Ceferino Villarreal, Moises Rivera, and former WBA welterweight champion, Crisanto Espana, who had won 30 consecutive fights.
The only opponents who remained undefeated after fighting Quartey were Oscar De La Hoya and Fernando Vargas.
Kelly Robert Pavlik comes into this fight with a slight reach and height advantage. He is 6'21/2 metres tall and has a reach of 75" as against Quartey's 5'71/2 metres and a reach of 71.
These physical statistics will only be meaningful if the 23-year-old American uses them to advantage. Quartey will leave the country for Pennslvania, USA in the latter part of May to finalise preparations for the fight.