Dixie High School donates jerseys to boys in Africa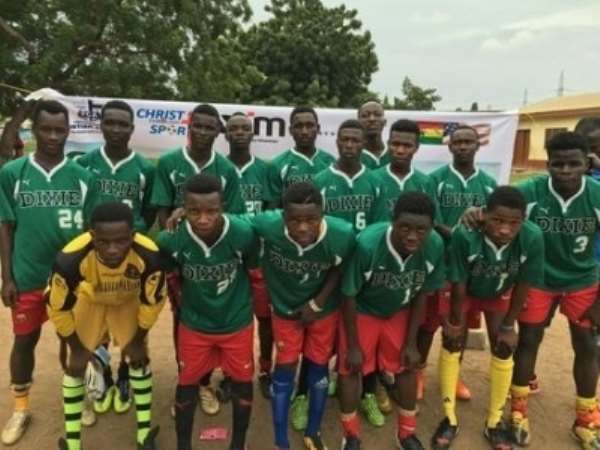 Somewhere on a field in Ghana, there's a group of kids sporting kelly green Dixie soccer jerseys.
The jerseys began as part of the Dixie boys soccer team's varsity uniform years ago, then they were passed down to the school's junior varsity team. After a few seasons on the backs of 15- and 16-year-old boys, the jerseys were replaced by newer jerseys, and Dixie boys soccer coach Brian Gamble had no use for them.
That is, until Gamble received an email last year from a Fellowship of Christian Athletes representative who was gathering up old athletic equipment for kids in other countries.
'It was just an email that if we had any old jerseys we weren't using - for any sport, but I think it did say something about soccer - or balls, or cleats or anything,' Gamble said. 'There were a lot of needy kids in various other countries, and if we had any extra, they would certainly be appreciative to have them.'
So the jerseys were sealed up and sent more than 5,000 miles from Due West to Accra, Ghana, through a program called FCA International that uses sports to connect with kids around the world.
Dixie volleyball coach Mickie Ellis, who is also an FCA sponsor, originally received the email from the FCA representative and decided to ask Gamble if he could spare anything.
'I just asked our soccer coach if he had any old uniforms that he was going to be getting rid of, if he wanted to donate them to FCA,' Ellis said. 'Coach Gamble did that, and so last year we sent a bunch, and he's just recently sent two batches more of older uniforms.'
Ghana competed in the Winter Olympics for the first time in 2010, but soccer is the most popular sport in the country.
Before 2006, Ghana's national men's soccer team, known as the Black Stars, had never competed in a World Cup. Since then, the country has been a fixture at the World Cup, appearing in each of the last three tournaments.
According to The World Bank, Ghana's nominal gross domestic product rose from $4.98 billion in 2000 to $37.54 in 2015, making it the largest economy in West Africa.
During that time, the country's life expectancy rose more than four years.
FCA International is active in 60 countries, including Nicaragua, which is where a group of Dixie teachers and students will spend part of their summer.
Ellis will accompany 14 Dixie students and girls soccer coach Jason Burton on a mission trip to Managua, Nicaragua, where the group will host soccer camps.
Ellis said she and Burton do not know any Spanish, but have recruited Heyni Sabatino, a Spanish teacher at Dixie, to help prepare for the trip. The group will also take a translator to help communicate.
'We're excited. This is our first time doing this,' Ellis said. 'So we're excited about what the Lord's going to do not only in our kids who are going, but what we can do for Nicaragua and helping kids over there.'