11 January 2017
|
Cup of Nations
Atlético Madrid youngster Thomas Partey among 16 La Liga stars heading to Gabon for AFCON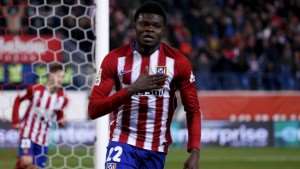 Atlético Madrid midfielder Thomas Partey is among 16 La Liga stars heading to Gabon for the 2017 Africa Cup of Nations.
The 23-year-old is expected to be key for coach Avram Grant ahead of the start of the tournament on Saturday.
The Ghana international has impressed at the Spanish outfit but will miss the La Liga next three weeks to the continental showpiece.
Joining the Spain-based players traveling to Gabon for the tournament are Cédric Bakambu (DRC and Villarreal) and Pape Diop (Senegal and Espanyol).
Málaga and Granada having two players each competing in Gabon: Victorien Angban (Ivory Coast) and Mehdi Carcela (Morocco) of Granada, and Bakary Koné (Burkina Faso) and Youssef En-Nesyri (Morocco) of Málaga.
Also travelling are Fayçal Fajr (Morocco and Deportivo), Aïssa Mandi (Algeria and Betis) Aymen Abdennour (Tunisia and Valencia).
The Spanish second tier is providing six players: Jonathan Zongo (Burkina Faso and Almería), Razak Brimah (Ghana and Córdoba), Yassine Bounou (Morocco and Girona), Munir Mohand (Morocco and Numancia), and Mohammed Djetei(Cameroon) and Lévy Madinda (Gabon), both of whom play for Nà stic.
For more Ghana football news visit www.ghanasoccernet.com