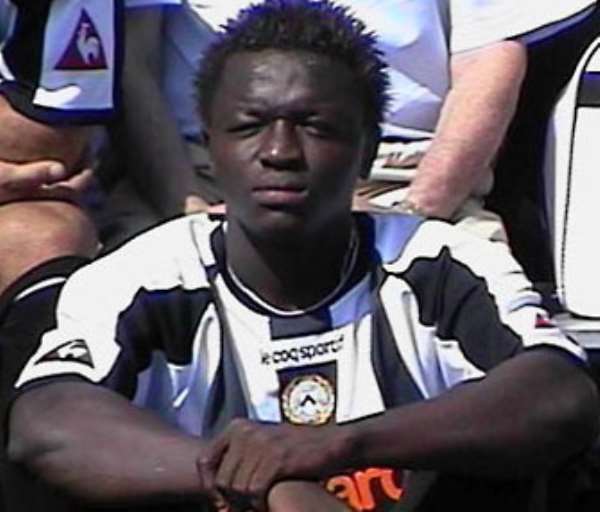 ROME (AP) - Juventus and AC Milan are dominating the Italian league this season.
Identifying the third power in Serie A is a little more difficult, but unknown Udinese is making a strong case, trailing only the two top clubs with its six wins and 22 points. Tucked away in far northeastern Italy - in the Friulia region near the Slovenian border - Udinese has become one of the country's best provincial teams over the last decade, finishing among the top eight in six of the last eight seasons.
If the team continues at its current pace, Udinese could secure a berth in the lucrative Champions League for the first time, beating out such prestigious teams as Inter Milan, AS Roma and Lazio.
In the meantime, the club's success can be attributed to shrewd financial dealing with an operating budget that is a fraction of what Italy's biggest clubs have to work with.
While most big clubs spend more money than they have, Udinese is working with a one-million-euro ($1.6 million Cdn) surplus this season.
Owner Giampaolo Pozzo took over the club in 1986. After a few seasons of bouncing back and forth between Serie A and B, Udinese has been in the top division since 1995, the same year the Bosman ruling reduced limits on foreign players in European leagues.
Since then, Udinese has developed an extensive scouting program that has uncovered talented and inexpensive players outside the usual recruiting grounds. After players establish themselves, Udinese often reaps huge gains by selling them to bigger clubs.
Three stars of the current side fall into that category.
Striker Vincenzo Iaquinta was acquired from lowly Castel di Sangro in 2000 for the equivalent of one million euros ($1.6 million Cdn) and is now worth 12 million euros ($18.9 million Cdn) on the transfer market.
Czech midfielder Marek Jankulovski came over from fast-falling Napoli in 2002 for 2.5 million euros ($3.9 million Cdn). His value is now estimated at seven million euros ($11 million Cdn) and Milan is leading the assault for his services come the January transfer period.
Midfielder David Pizarro was plucked from Chile's Wanderers in 1999 for the equivalent of 3.5 million euros ($5.5 million Cdn) and is also now worth seven million euros ($11 million Cdn).
Sulley Muntari, a 20-year-old midfielder from Ghana, is considered a future star of the team, as is another 20-year-old, Brazilian defender Felipe.
Former German star Oliver Bierhoff, current Italy midfielder Stefano Fiore and Denmark defender Thomas Helveg made their names with Udinese before moving on to bigger clubs.
Last season, Udinese was one of the toughest opponents for the league's top teams and was one of only two sides to beat champion Milan.
This season they appear even tougher.
"We're in a great position, in the last seven rounds we've won five times and drawn twice. But the standings are close and we can't start dreaming," said 38-year-old defender Nestor Sensini, one of the few real veterans on the team.
"It's OK to be aware of our capabilities, but it would be disastrous to underestimate an opponent, that would be the beginning of the end."
Coach Luciano Spalletti, in his fourth season with the club, was pleased with how his team performed in a 2-1 win at Livorno last weekend. Iaquinta and David Di Michele put Udinese ahead 2-0 before Livorno's Cristiano Lucarelli cut the lead in half in the 65th minute.
"We played a splendid first half at Livorno, but I also liked how we played in the second half because we showed we know how to suffer, and to fight," Spalletti said.
"Where will we finish? That's a question for the fans to think about, I'm only thinking about preparing in the best way possible for the next game. It will be a difficult and delicate match against Siena," the coach said, referring to Sunday's opponent.
League-leader Juventus hosts struggling Lazio with Alessandro Del Piero's status questionable due to a thigh problem. Lazio coach Domenico Caso is in danger of losing his job due to the club's poor performances lately.
Milan, four points behind Juve, visits another struggling team, Parma, on Saturday. Strikers Andriy Shevchenko and Jon Dahl Tomasson could each miss another match, although Hernan Crespo is finding form after scoring in a 1-0 win against Chievo Verona last weekend.