I Regret Playing For Hearts …Says Polo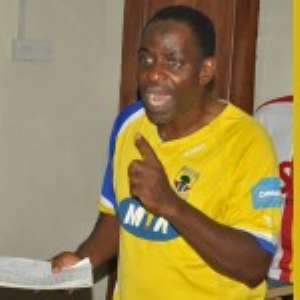 HEARTS OF Oak legend, Mohammed Polo, says if he had another chance to start his career all over again, he will not play for Hearts.
The ex-Ghana international has stated that he would rather opt for Hearts' perennial rivals, Kumasi Asante Kotoko, if he is to start his career again.
Polo, who threw the bombshell during an interview on Boss Sports, said he had regretted playing for the Phobians.
"If I were to have another chance to start my career again, I will register and play for Kotoko instead of Hearts," he said.
He said he wasted his amazing talent at Hearts, noting that he would have won the Africa best player award, had he played for Kotoko.
Polo said Kotoko management and supporters have a history of always supporting their players to reach the top "but Hearts is not like that."
He stressed that Kotoko helped its stars like Abdul Razak and Ibrahim Sunday to win the Africa best player award in the 1970s.
Polo lamented that even though he (Polo) was equally talented, he could not land the prestigious accolade because Hearts did not support him.
He observed that even in retirement, Kotoko players are making it big in life as compared to Hearts players saying, "I regret playing for Hearts."
"There is a big difference between Kotoko and Hearts. Kotoko, they support their starts but at Hearts it is a different ball game."
.
"At Hearts you can even die as a player and they won't mind you," Polo threw the bombshell, "Look at the way I am suffering now."
Polo said even Kotoko fans love and appreciate him (Polo) now than Hearts fans, noting "If I were to die and come back to life once again, I will play for Kotoko."
Zakour's Reply
In response, ex-Hearts of Oak Boss, Harry Zakour, has rubbished Polo's comments, arguing that Hearts of Oak cherishes and support its players.
He said virtually all ex-Hearts of Oak players are living good and are appreciated by the phobia family, warning Polo to shut up.
Zakour said Polo failed to plan his future that is why he (Polo) is in trouble now; "he should blame himself and stop blaming Hearts."
He stated that Polo is not a good football coach, recounting how Polo failed woefully to deliver when he was appointed as Hearts trainer.
Zakour said being a good player doesn't guarantee that you would also be a better coach, jabbing Polo for not possessing any credible coaching certificate.
Also speaking on Boss FM in Kumasi, he asked about where Polo was trained as a coach, indicating that Polo should not be taken serious.
FROM I.F. Joe Awuah Jnr.,Kumasi.