Ailing ex-Ghana defender Agyemang Duah blasts 'stingy' Hearts fans, hails magnanimity of Kotoko supporters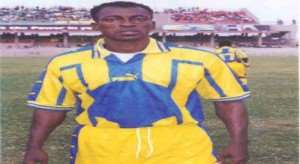 Ex-Ghana defender Edward Agyemang-Duah has lashed out at 'stingy' Hearts supporters while lauding the magnanimity of the fans of their bitterest rivals Asante Kotoko.
Duah who played for both clubs has been bedridden with stroke for many years.
The former Ashantigold strong centre-back enjoyed a more illustrious career at Hearts where he played a pivotal role in their CAF Champions League success in 2000.
The ailing former Ghana star has revealed he has been neglected by Hearts while Kotoko fans continue to show love and mercy since he was knocked down by the deadly disease.
'Kotoko people are generous, so far as a player plays his heart out they will also make him very happy by supporting the player by giving him all kinds of gifts, so when I compare them to that of Hearts of Oak they are ahead," he told Asempa FM.
'Even during the period struggled with stroke, the former Kotoko players whom I played with visited me, when Kotoko Oldies played against Hearts of Oak Oldies, even though they are not in Accra they did that, Hearts people that I stay with them here in Accra never did.
'It was only Amankwa Mireku and Adjah Tetteh, who did that, but even that I had to criticize them on phone before."
Nicknamed Rambo, Agyemang-Duah was part of the silver-medal winning Black Stars squad in 1992.
Edward Agyemang-Duah has stated that Asante Kotoko supporters are open-handed to players who give out their best to their idol club, unlike supporters of Accra Hearts of Oak.
He played in three CAF Champions League finals for Kotoko, Ashantigold and Hearts.