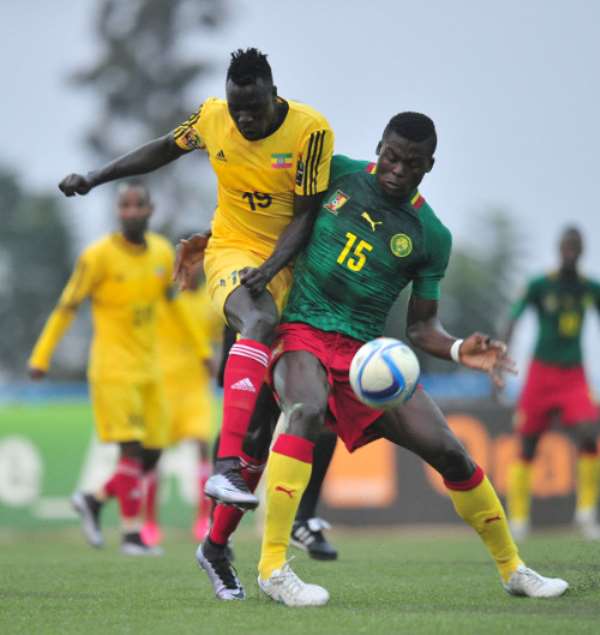 Tafesse Shewamene of Ethiopia tackled by Frank Thierry Boya of Cameroon during the 2016 CHAN Rwanda, match between Cameroon and Ethiopia at the Huye Stadium in Butare, Rwanda on 21 January 2016 ©Muzi Ntombela/BackpagePix
It was a game that promised much but fizzled out to goalless draw that lacked creative spark and risk taking in the final third, as Cameroon and Ethiopia ended 0-0 after 90 minutes in their Group B clash at CHAN 2016.
DR Congo are top of Group B with two wins out of two. Cameroon have 4 points and Ethiopia just the one point.
Depending on what happens between Cameroon and DR Congo, Ethiopia do have a mathematical chance of going through as they are expected to beat Angola who have lost both games.
The match started off very tight with neither side wanting to give anything away. It took until the 19th minute for a genuine goal attempt.
Ethiopia's Haile Mulualem burst towards goal after a great through ball, but his strike from the edge of the 18 area flew over the crossbar.
Ethiopia, with their tails up, continued asking questions of the Cameroon defence and in the 27th minute a rasping shot flew just over the bar as Cameroon's goalkeeper looked on.
The match was delayed for about 5 minutes when the floodlights failed around the 35 minute mark. The stadium was in complete darkness as the lights slowly warmed up again and found full strength.
In the final ten minutes of the first half Ethiopia knocked the ball around well and looked for openings, but Cameroon held firm in defence to keep out the danger as the half drew to a close.
The start of the second half saw a few half chances here and there but it seemed more and more that Ethiopia were setting up to contain Cameroon and not concede a goal in the hope of picking up a valuable point.
Cameroon won a free kick in a central position in the 75th minute, but they could not make it count and once more Ethiopia held out an attack as Cameroon seemed to run out of attacking ideas.
With ten minutes left on the clock Atouba pushed forward into the Cameroon striking role and the West Africans began trying to play long balls into the channels to release Atouba and the other forwards, but to no avail.
TEAMS
Cameroon: Nyame - Djetei, Mbimbe, Moussa, Atouba - Nlend, Moumi, Kombi, Boya - Mbah, Gouet
Ethiopia: Mamo - Dejene, Belay, Eliyas, Asrat - Deng, Tamene, Tesfaye, Mulualem - Panom, Behailu