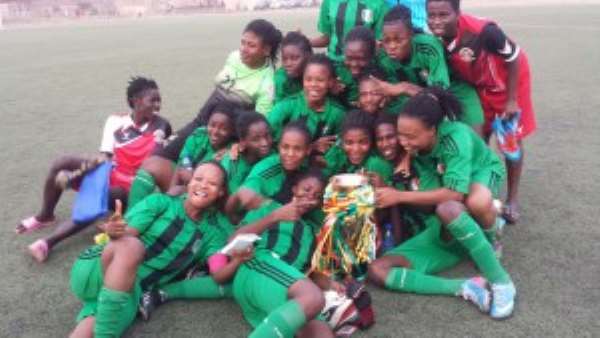 Hasaacas Ladies celebrating their win
The finals of the National Women's Championship was played today at the Teama Park between Hasaacas Ladies and Ampem Darkoah Ladies.
Hasaacas Ladies won the game by a lone goal courtesy Samira Suleiman in the 66th minute.
Hasaacas Ladies were champions of the Southern Zone while Ampem Darkoah Ladies were the champions of the Northern Zone.

Line up of Ampem Darkoa Ladies in the 2015 NWC Finals

Hsaacas Ladies line up in the 2015 NWC Finals

Apem Darkoa captain receiving their prize money of GHC2000.00

Most Promising Player Priscilla Adobea

Best Goalkeeper Beatrice Ntiwaa of Hasaacas Ladies

Best Player of the tournament Janet Agyiri of Hasaacas Ladies

Hasacas Ladies captain Samira Suleima with the trophy

Prez Nyamntakyi presenting the trophy to Hasaacas Ladies