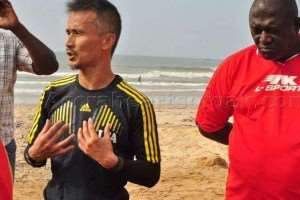 Hearts coach Kenichi Yatsuhashi does not fear being attacked by the club's demanding supporters if he fails to win the Premier League title in his first season.
The 46-year-old has backtracked after he promised to win the double in his debut season.
The Japanese trainer has been quick to water down on the expectation of the fans following his side's poor form in pre-season.
Hearts have conceded an astonishing nine goals in just three games to heighten the lack of quality in the team ahead of the start of the new campaign.
Against the backdrop of a demanding supporters who have been desperate for the Premier League crown, another trophyless season could be disastrous for the under-fire top officials.
There are fears the American-trained coach could be attacked by irate fans if he fails to win the title.
But the tough-talking coach insists he's won't buckle under the weight of expectation and does not fear any such motives.
'I am not scared and talking about the passionate fans, I have been in Brazil where there was a situation much worse than here, not only at the training grounds but a lot of supporters throw things at us during games,' he told Accra-based Starr FM.
'So I have been through this situation before but I believe that our supporters are intelligent enough to give us more time.
"G6 is the final phase of our preparations and we are not taking this like league games. The first league game is when we have to be ready."
Hearts were trounced 5-0 by Libyan side Al Ahli Tripoli in a two-legged friendly last week.